Huge response highlights value of Coders Initiative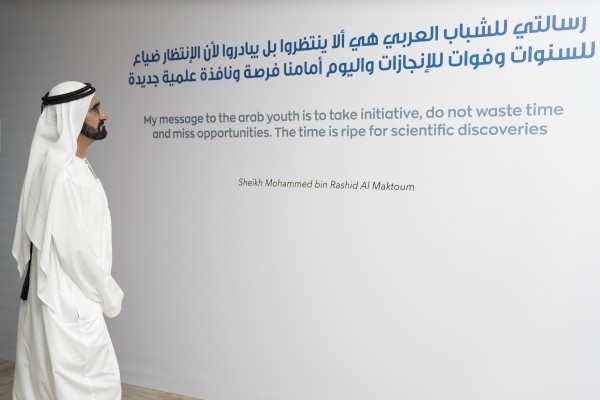 The 'One Million Arab Coders' project launched by His Highness Sheikh Mohammed .bin Rashid Al Maktoum, the Vice President, Prime Minister and Ruler of Dubai, in October 2017 is a visionary initiative aimed at keeping the country and the region well equipped to face the technological challenges of the future, a UAE newspaper has said.
"The world is increasingly embracing digital economy and young Arabs in the region are well aware of the importance of science and technology," said The Gulf Today in an editorial on Monday.
The paper continued, "The initiative is the largest programme of its kind that seeks to train one million young Arabs in computer programming, in order to empower and equip them with the necessary tools and technological insight to face the digital world.
"The participants will enjoy the advantage of being part of a community that plays a key role in various key economic sectors, particularly e-commerce, IT and software engineering.
"The initiative has already received 1.1 million applicants from around the Arab world in such a short span. This certainly reflects the young Arabs' thirst for knowledge and their commitment to developing their expertise through this valuable opportunity, and improving their skills to be better prepared for the future and to play their part in strategic economic sectors."
The paper quoted Sheikh Mohammed as saying, "Coding is the language of the modern era. It will create many job opportunities for young people. It will pave the way for them to participate in the global economy online, from home."
"The 'One Million Arab Coders' initiative is especially relevant because studies have revealed that half the Arab population is under 25 years old, and 39 percent aspire to establish their own businesses over the next five years," added the editorial comment.
"The ultimate goal of the programme is to open a wide range of career opportunities for young people in the future and to inspire a new generation of leaders in the digital economy – the economy of the future.
"There can be no doubt that the initiative will help sharpen young citizens' abilities across the region and stimulate innovation in order to effect positive change and spread hope amidst the region's challenges, instability and high unemployment," it said.
"The overwhelming response is an unambiguous indication of how timely and necessary this initiative is," concluded the Sharjah-based daily.
Follow Emirates 24|7 on Google News.