India and the UAE: Envisioning a Partnership for the Future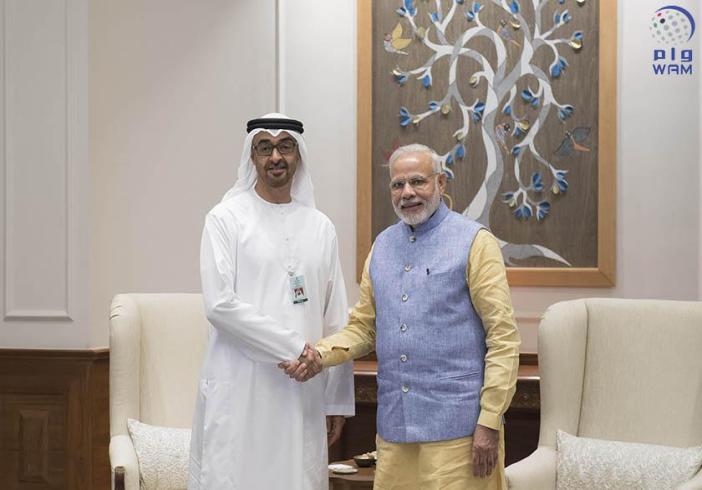 The United Arab Emirates and the Republic of India are committed to building a modern strategic partnership based on the two countries' shared values of religious tolerance and the importance of building open, multi-cultural societies that are respectful of differences related to faith.
On the occasion of the visit of His Highness Sheikh Mohamed bin Zayed Al Nahyan, Crown Prince of Abu Dhabi and Deputy Supreme Commander of the UAE Armed Forces, to attend the 68th Republic Day celebrations of India as chief guest, His Highness Sheikh Mohammed and the Indian Prime Minister, Narendra Modi, issued the following joint op-ed: "India and the UAE are linked by our common desire to build a resilient modern strategic partnership.
This desire has become more manifest in the last two years.
In this time, we have personally built a bond of friendship that has allowed us to shed the traditional approach of incremental progress.
"Instead, we are using the springboard of our friendship to give our partnership a bold new vision that goes beyond our bilateral relations.
We will contribute to a regional order that reflects our shared interest in stability, prosperity and tolerance. That is the promise that we have made to each other.
"In this enterprise, we are fortunate to be able to draw on centuries of accumulated goodwill and understanding between our nations. The promise that the late Sheikh Zayed bin Nahyan, Father of the Nation of the UAE so presciently foresaw in 1970, even before UAE's independence, is translating into purposive action today. He had said then, while speaking in an interview, 'Our relations go back some 4,000 years when we had flourishing trade and commerce with India; and now that we are about to be independent, we would like these bonds to be restored and strengthened in every possible way' - there are boundless possibilities for trade, commerce, even joint projects."
"The Comprehensive Strategic Partnership to which we have committed our countries builds upon the vision of the respected leader. It also builds on our extensive discussions in Abu Dhabi in August 2015 and in New Delhi in February 2016. It sets out a clear roadmap to restore and strengthen our historic ties but also looks at several entirely new areas of cooperation.
As nations, UAE and India have grown to respect each other for our shared values of religious tolerance and the importance of building open, multicultural societies that are respectful of differences related to faith, ethnicity or language.
We have been unequivocal in our rejection of religious extremism and the atmosphere of hate and terror that it has produced. We have been equally forthright in condemning terrorism in all its manifestations and in refusing to accept false justifications for terrorism in the name of religious or political objectives.
We have denounced and opposed terrorism in all forms and manifestations, wherever committed and by whomever, calling on all states to reject and abandon the use of terrorism against other countries, dismantle terrorism infrastructures where they exist, and bring perpetrators of terrorism to justice.
We believe that this approach is crucial for fostering an environment of peace, stability and prosperity in our region.
"We have also strongly condemned the terrorist attacks in Kabul and Kandahar on 10th January, 2017 and the terrible loss of lives of UAE and Afghan nationals in these attacks.
Our countries have decided to intensify our defence cooperation, expanding the scope of our training programmes, increasing our joint exercises and exploring opportunities for co-production of defence materials.
The presence of a contingent from the UAE Air Force in Delhi, marching down Rajpath in step with their Indian counterparts as part of the Republic Day parade, is a powerful visual symbol of cooperation.
"We have also made strides in our economic engagement. India is the UAE's largest trading partner and for India, the UAE ranks third after US and China.
The entrepreneurship of the Indian business community has long been recognised in the UAE where they are present on a big scale; a relatively more recent phenomenon is the growing investments from the UAE into the Indian economy in key areas like infrastructure, energy, healthcare, retail, hospitality and real estate.
These mutual flows are anticipated to increase and will constitute a dynamic pillar of our partnership.
"India recognises that rapid development of infrastructure holds the key to meeting India's development aspirations. Some of the UAE's largest companies are world leaders in this area and we hope to encourage greater participation by them in India's ambitious plans to develop highways, ports, airports and logistics hubs. We are also exploring innovative approaches in the equally important area of food security.
"As a major exporter of crude oil, the UAE has been a reliable partner in India's quest for energy security.
But we are also looking beyond fossil fuels at the world that we want to bequeath to future generations.
The UAE's decision to establish MASDAR was a trend-setter for the world, and India has set up extremely ambitious targets for the share of renewable energy in its own energy-mix.
The UAE plans to join the Indo-French initiative to establish an International Solar Alliance and India is an ardent advocate and partner of the Abu Dhabi based International Renewable Energy Agency, IRENA.
"The role of the 2.6 million strong Indian community in the UAE is appreciated in both nations; for India, as a visible testament to the strength and success of our diaspora that enriches us in turn; for the UAE, as a valuable contribution to its development and national life.
The bonds of trade, investment, friendship and personal relations that have taken root between the UAE and India represents an especially strong bridge between our countries.
"An eye on the future is also manifest in our dialogue on cooperation between the Indian Space Research Organisation and the UAE Space Agency.
India is one of just four countries to have successfully sent a mission to Mars. The UAE also has an ambitious programme in this field. By working together, we intend to demonstrate that not even the sky is the limit for our cooperation.
"Today, we are moving towards a deeper, stronger and more intense engagement with each other.
This rests on a strategic vision shared by us and on the extensive network of personal and people to people contacts between us.
"We are confident that we have created strong and robust platforms and mechanisms to take our relationship to new heights. India and the UAE are determined to fulfill the promise of our partnership for our people and our region."
Mohamed bin Zayed holds officials talks with Indian Prime Minister in New Delhi
His Highness Sheikh Mohamed bin Zayed Al Nahyan, Crown Prince of Abu Dhabi and Deputy Supreme Commander of the Armed Forces, on Wednesday held official bilateral talks with Narendra Modi, Prime Minister of India. The two leaders discussed boosting bilateral ties and a number of regional and international issues of mutual interest.
The talks, held in Hyderabad House in New Delhi, began with Prime Minister Modi welcoming His Highness Sheikh Mohamed bin Zayed and the accompanying delegation, and expressing his delight over His Highness's visit to India. Mr. Modi also praised the special relationship that ties the two nations together and the mutual eagerness to increase cooperation for the service of the two friendly peoples.
His Highness Sheikh Mohamed bin Zayed expressed his gratitude and appreciation to the Indian government and Prime Minister Narendra Modi for the enthusiastic and friendly reception and their generous hospitality. His Highness also congratulated the Indian people and government on the occasion of the 68th Republic Day.
His Highness conveyed the greetings of His Highness Sheikh Khalifa bin Zayed Al Nahyan, President of the UAE, and His Highness Sheikh Mohammed bin Rashid Al Maktoum, Vice President and Prime Minister of the UAE and Ruler of Dubai, to Premier Narendra Modi and their best wishes for him and the Indian people.
The Indian Prime Minister expressed appreciation for the warm wishes and friendly greetings, asking His Highness Sheikh Mohamed bin Zayed to convey a similar message to His Highness Sheikh Khalifa bin Zayed Al Nahyan, President of the UAE, and His Highness Sheikh Mohammed bin Rashid Al Maktoum, Vice President and Prime Minister of the UAE and Ruler of Dubai, and the people of the UAE.
His Highness Sheikh Mohamed expressed his delight at his visit to India, which he said was tied to the UAE with a special relationship. He noted that the strong relationship between the two countries builds on a rich heritage of friendship and cooperation.
His Highness stressed that the UAE, under the leadership of His Highness President Sheikh Khalifa bin Zayed Al Nahyan, is keen to further develop its relations with India on the unshakable basis of mutual respect and common interests.
His Highness pointed out that he has sensed, during several discussions between the two leaderships, a shared desire to strengthen bilateral relations and to move them steadily forward, adding that this shared desire made him more confident that the two countries would be able build a true strategic partnership that serves current and future generations.
He said he believes the relationship between India and the UAE have all the elements that qualify it to be one of the most important and strongest bilateral relationships in the region and the world and the one with most potential.
In their talks, the two leaders discussed existing bilateral relations and how to foster them. They also discussed a number of regional and international issues, including current regional developments such as terrorism and violence, and other issues of mutual interest.
At the conclusion of talks, the two sides stressed that UAE-India relations were witnessing major developments and breakthroughs at the strategic level, and voiced their shared enthusiasm about taking all necessary measures to push these relations forward.
The two leaders also stressed that the UAE and India share a common interest in working for peace and stability in the region and the rest of world by helping to resolve disputes and conflicts by peaceful means.
They also reiterated that they share a common desire to confront forces of terrorism and extremism and to create a secure and stable regional and international environment that serves the interest of all nations and help them develop and prosper.
His Highness Sheikh Mohamed signed the visitor's book at Hyderabad House, writing that the Indian Constitution, which is celebrated every year on Republic Day, has laid the foundations for India to take on a steady course of growth and comprehensive development. He also expressed his pride at the advanced level that UAE-India relations have reached, adding that he looks forward to enhancing those relations at all levels given the mutual interest by the leaderships of the two countries to do so.
Prime Minister Modi also hosted a luncheon in honour of His Highness Sheikh Mohamed bin Zayed Al Nahyan and the accompanying delegation.
His Highness Sheikh Mohamed was accompanied during the visit by Sheikh Mansour bin Zayed Al Nahyan, Deputy Prime Minister and Minister of Presidential Affairs, Sheikh Hamed bin Zayed Al Nahyan, Chief of the Abu Dhabi Crown Prince's Court, Sheikh Abdullah bin Zayed Al Nahyan, Minister of Foreign Affairs and International Cooperation, Sheikh Khalid bin Mohamed bin Zayed Al Nahyan, Chairman of the State Security Department, Sheikh Khalid bin Mohamed bin Zayed Al Nahyan, Deputy National Security Advisor, Sheikh Dhiyab bin Mohammed bin Zayed Al Nahyan, Sultan bin Saeed Al Mansouri, Minister of Economy, Dr. Anwar bin Mohammed Gargash, Minister of State for Foreign Affairs, Reem bint Ibrahim Al Hashemi, Minister of State for International Cooperation, Mohammed bin Ahmed Al Bowardi, Minister of State for Defence Affairs, Dr. Sultan bin Ahmad Sultan Al Jaber, Minister of State, Khaldoon Khalifa Al Mubarak, Chairman of Abu Dhabi Executive Affairs Authority, Mohammed Mubarak Al Mazrouei, Under-Secretary at the Court of Abu Dhabi Crown Prince, Lt. General Hamad Mohammed Thani Al Rumaithi, Chief of Staff of the Armed Forces, and Dr. Ahmed Abdul Rahman Al Banna, UAE Ambassador to the Republic of India.
Follow Emirates 24|7 on Google News.