Indian chef recharges phone for Dh20, wins car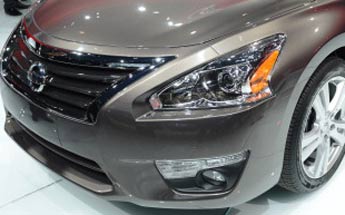 "I owe it all to my baby girl," announced an ecstatic Santi Biswas, who won the Nissan Sentra at the grand Nissan draw during the ongoing Dubai Shopping Festival (DSF).

"I had gone to the convenience store to buy a recharge card for Dh20 so that I could call my one-year-old daughter and wish her 'happy birthday'." It's then that the sales woman urged me to fill out the coupon and drop it in the box."

Biswas, who has been working as a chef in Karama for the last 10 years for a monthly salary of Dh2,000, says he plans to trade-in the car for cash.

"I have decided to take the Dh44,000 that the car is estimated to fetch and buy some land in India in my daughter's name," he told Emirates24|7. "After all, it's because of her that I won the prize."

When Biswas received the call about his win, he was at work. At first, his friends doubted the authenticity of the call and hinted at it being a prank call. "The phone number appeared genuine, and I knew it deep down that it was true."

When he shared the news with his wife and family in Kolkata, they were obviously overjoyed. "They have told me not to quit my work, as it is due to my work that I was able to buy the coupon," said the 32-year-old, who works in China Garden restaurant in Karama. "They asked me to continue working hard."

He says that he is yet to treat his friends because he is down with fever. "It's not because of the overexcitement but due to the weather change," he quips.

The Nissan Grand Raffle is offering shoppers the opportunity to win a Nissan car every day and as a DSF 20th Anniversary Special, a Nissan Patrol every week.

Shoppers entitled to a raffle coupon for every Dh20 spent at the convenience store Zoom or at Pronto, Dh30 spent for a car wash at Enoc/Eppco or Dh100 spent for an oil change or any AutoPro service.

Customers can win one of 10 Nissan models in the daily draw – Micra, Sunny, Sentra, Tiida, Altima, X-Trail, Murano, Z370, Pathfinder and Armada.
Follow Emirates 24|7 on Google News.