Indian fashion couturier Manish Malhotra spends an afternoon with Etihad Airways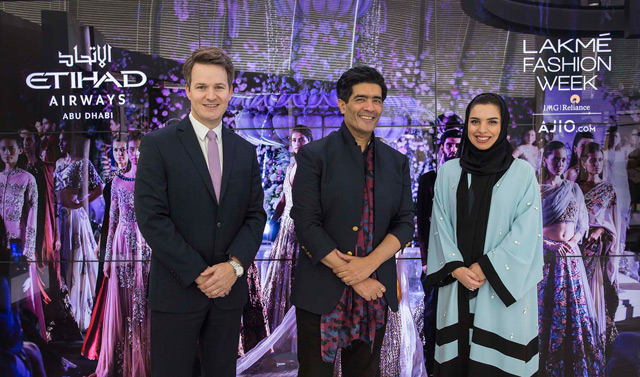 Etihad Airways in association with Lakmé Fashion Week, hosted master couturier Manish Malhotra in Abu Dhabi as part of the airline's latest initiative as the preferred carrier of the global fashion industry.
Renowned for modernising costumes in Bollywood, India's vibrant film industry, the celebrity designer has redefined the fashion industry with his eponymous label taking Indian couture to the global stage.
He visited the airline's state-of-the-art Innovation Centre and Training Academy and officially launched his Etihad Airways-sponsored virtual reality fashion show, which was filmed using the pioneering technology at Lakmé Fashion Week in Mumbai last August.
With over 75 models on the catwalk, viewers are able to immerse themselves in the show and feel part of the extravagant event, with Manish Malhotra becoming the first Indian fashion designer to present a virtual reality experience.
Etihad Airways used the same VR technology to give viewers unprecedented access to the airline's award-winning Airbus A380 by immersing them in the aircraft cabins in a virtual reality film 'Reimagine' featuring Hollywood actress Nicole Kidman.
Lakmé Fashion Week was one of a series of fashion events around the world sponsored by Etihad Airways as part of its three-year agreement with WME | IMG to be the industry's preferred airline.
The next edition of Lakmé Fashion Week takes place in Mumbai from February 1.
During his visit, the acclaimed designer was given a tour of the Innovation Centre that houses mock-ups of Etihad Airways' A380 and Boeing 787 premium cabins, including its award-winning three-room suite – The Residence.
The visit also covered a tour of the cabin crew training facilities and a Q&A session about the fashion industry, and his lifestyle and travel experiences that was streamed live on social media.
Patrick Pierce, Etihad Airways Vice President Sponsorships, said: "As the international fashion industry prepares for its first major event of the year with another edition of Lakmé Fashion Week in Mumbai next month, we are delighted to host Manish Malhotra in Abu Dhabi.
"He is an energetic, innovative and visionary designer who has helped elevate Mumbai into one of the world's fashion capitals. We are proud to collaborate with him, particularly in India where Etihad Airways is a key player serving many cities across the country with our strategic partner Jet Airways."
The influence of fashion spans a huge audience, from mass fashion consumers to the global fashion elite of designers, models, photographers and editors – all of whom Etihad Airways is looking to convert into loyal customers.
Etihad Airways' positioning as a premium lifestyle airline is reflected by its innovative and stylish designs in product and service on board its luxurious aircraft, including the A380s serving Mumbai, London, Sydney, Melbourne and New York from its Abu Dhabi hub – a perfect fit for high flyers from the fashion industry.
Manish Malhotra, who has completed 26 years in the movie industry and recently celebrated 11 successful years of his label, said: "I am thrilled to launch the immersive virtual reality experience with Etihad Airways at its state-of-the-art Innovation Centre to allow viewers to share in the excitement of attending my Lakmé Fashion Week Festive collection showcase.
"Even after 26 years, it is always special marking firsts – from partnering with Etihad Airways for the first time, to being the first Indian designer to create a virtual reality show. It feels great to see all the effort and hard work along with innovation and creativity result in this unprecedented experience. I have travelled to Abu Dhabi many times and I absolutely love the city for its culture and history. It's a fascinating destination where traditionalism meets modernism and technology."
Jaspreet Chandok, Head of Fashion, IMG Reliance, added: "We see Manish Malhotra as part of the Lakmé Fashion Week family and we are very happy to have our long-term association with Etihad Airways also continue with this fantastic initiative taking the event to the Middle East. Lakmé Fashion Week has always taken the lead on technology in fashion and we are delighted to have Etihad Airways host the launch of the Manish Malhotra virtual reality show at their amazing Innovation Centre."
Manish Malhotra's repertoire not only includes designing and styling Bollywood celebrities, but also introducing opulent contemporary Indian wear, with his diffusion and couture range.
His creative aesthetics and sense of fashion have made him a first choice for high net worth individuals, global corporates and affluent families across the world.
He designed for Michael Jackson during his visit to India, and also styled Hollywood celebrities Jean-Claude Van Damme, Reese Witherspoon in Mira Nair's Vanity Fair, Kylie Minogue, and the wedding outfits for the Princess of Riyadh.
Etihad Airways and Jet Airways together operate 252 weekly flights between Abu Dhabi and 15 Indian cities – Ahmedabad, Bengaluru, Chennai, New Delhi, Hyderabad, Jaipur, Kochi, Kolkata, Kozhikode, Mumbai, Thiruvananthapuram, Pune, Lucknow, Goa and Mangalore.
Both carriers combined enjoy the biggest share of international passenger traffic to and from India. During 2017, joint capacity will rise to 280 weekly flights with increased frequency and new Indian points added to their network – Chandigarh, Kannur and Tiruchirappalli.
Follow Emirates 24|7 on Google News.