Indian friends win 2 Infiniti cars and Dh100,000 at DSF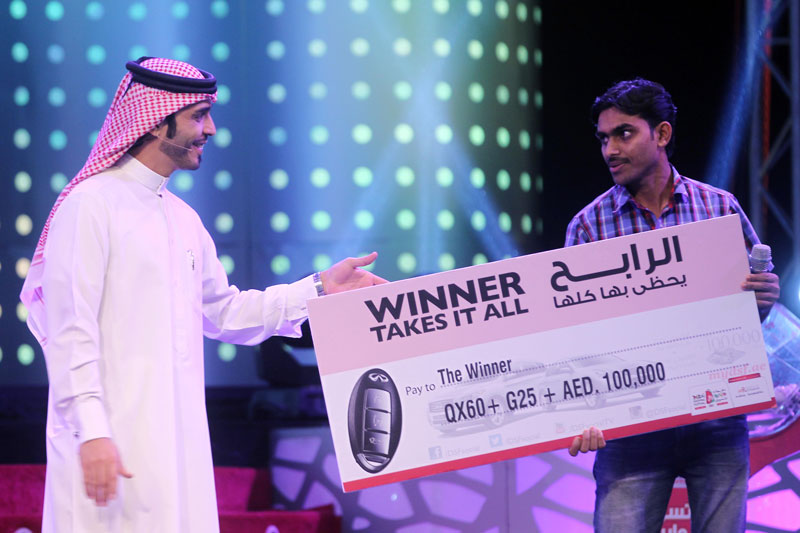 The New Year is clearly lucky for two Indian friends, who won two Infiniti cars – QX60 and G25, and cash of Dh100,000 at the mega Infiniti raffle draw.

The duo - Naushad Mavullaparampat and Rajesh Modokandiyil - had pooled in and bought the Dh200 raffle ticket during the Dubai Shopping Festival.

They had decided to put down 32-year-old Naushad's name on the raffle ticket.

Both hail from Kannur district in Kerala and have been roommates since they moved to Dubai nine years ago. They even work as salesmen at the Village hypermarket in Jebel Ali free zone.

"We are like best friends," said Naushad, adding, "Even back home we live close by. We also moved to Dubai at the same time and have since worked in the same shop."

Although Naushad had tried his luck at the raffle draw last year, he didn't win. But, this year has been different.

"I was shocked when I got a call from Global Village," recalled Naushad. "I couldn't believe it."

In fact, Naushad called the organisers again to confirm if what they had told him was actually true.

"I immediately called Rajesh and told him."

Although Rajesh wasn't expecting them to win, he was thrilled with the news.

"I'm very happy. We are best friends and looks like we are lucky for each other," he added.

The friends are planning to sell the cars and investing the entire amount in business.

"We want to start a business, but we haven't decided whether it will be in Dubai or back home. Or, whether we'd do it together," Rajesh added.

Both their families live in Kerala.

"I did call my family and tell them. But, I didn't tell them how much," Naushad said. "I will wait till I get the prize."

To be eligible for the mega draw, shoppers need to buy raffle draw coupons for Dh250. These are available at Gold Souk, main shopping malls, selected Enoc and Eppco petrol stations and Global Village.

Follow Emirates 24|7 on Google News.