Indian housewife wins $1m raffle with Dubai Duty Free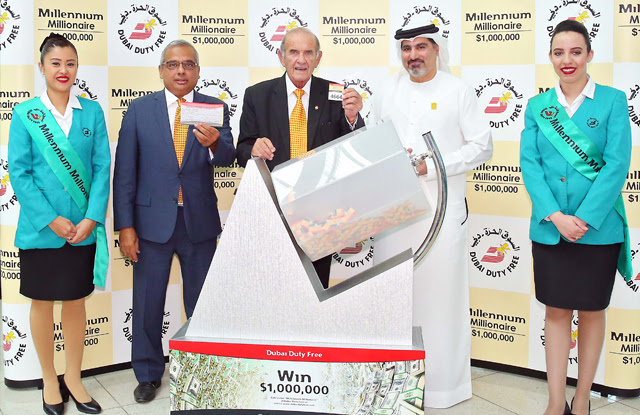 Shanthi Achuthan Kutty is about to have the experience of a lifetime as she will be claiming $1million from the Dubai Duty Free Millennium Millionaire Promotion, which was drawn this week.
Shanthi Kutty, an Indian housewife couldn't believe her luck as she spoke to Dubai Duty Free over the phone on her new-found wealth.
Following the draw, the presentation to a previous Millennium Millionaire winner also took place. Hamid Latif Zainel who became a dollar millionaire flew in from Qatar to Dubai and attended today's presentation and witnessed the draw. He was delighted to visit Dubai Duty Free and commented: "I would like to thank Dubai Duty Free for such a memorable day in my life!"
Furthermore, a Finest Surprise draw took place directly after the Millennium Millionaire.
The lucky winner to take home the stylish Ducati bike was Thomas Clement, a 50-year-old biker.
Clement, an Indian national who works in FedEx Customer Care was thrilled when he heard of his win and commented: "It is rewarding to receive a call from Dubai Duty Free since I'm a regular participant of the Millennium Millionaire and Finest Surprise promotions, and I thank Dubai Duty Free for such a great surprise and look forward to receiving my brand new bike!"
Following the Finest Surprise draw, Dubai Duty Free presented a BMW 750Li xDrive M Sport to Manuchandran Gopalakrishna Pillai, an Indian national living in Sharjah who has won a brand new car.
The latest Millennium Millionaire and Finest Surprise draw and presentations were conducted by Dubai Duty Free officials headed by Colm McLoughlin - Executive Vice Chairman and CEO, Ramesh Cidambi - Chief Operating Officer, Salah Tahlak – Executive Vice President – Corporate Services and Sinead El Sibai, Senior Vice President – Marketing.
Follow Emirates 24|7 on Google News.