Indian man wins $1m in Dubai Duty Free Millennium Millionaire Promotion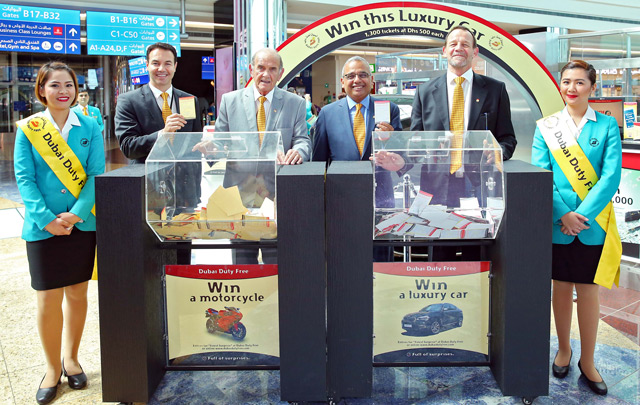 Mr. Francis Xavier Arippattuparambil Cleetus, an Indian national living in Sharjah was up in the sky when he received the news on his win in Dubai Duty Free Millennium Millionaire Promotion as his lucky ticket no. 3133 in Series no. 238 was drawn earlier this morning (Tuesday) in Concourse B of Dubai International Airport.
Mr. Cleetus, a boat captain in Sharjah Sea Port, is a regular participant in the Millennium Millionaire promotion and couldn't believe he won a US$1 million dollars. The 46 year old father of two purchased his winning ticket online had no words to say, but exclaimed: "I'm very glad that I won! Now I can bring my family here!"
Following the draw, two winners were announced in the Finest Surprise Promotion.
The lucky winner to take home the stylish BMW X6 50i M Sport (Space Grey Metallic) is Mr. Rahul Hazra, a Dubai-based Indian national, who is now looking forward to have his first drive in his brand new car. Mr Hazra, a regular buyer of Finest Surprise tickets in Dubai Duty Free, purchased his winning ticket no. 0189 in Series no. 1648 on his way to Poland, where the news of his win caught him. Mr Hazra commented: "It's a great feeling to win a car I like!"
While Maximilian Dsouza, an Indian expat from Dubai, who purcahsed the ticket under his son's name Vivaan, has become a winner of a Ducati Hypermotard 939 (Red) in Series no. 300 with ticket no. 0859. Mr. Dsouza, a 34 year old business travel consultant from Dnata, has purchased his winning ticket online.
The latest Dubai Duty Free Millennium Millionaire and Finest Surprise draw was conducted by Dubai Duty Free officials headed by Colm McLoughlin - Executive Vice Chairman and CEO, Ramesh Cidambi - Chief Operating Officer, Nic Bruwer – Executive Vice President - Commercial, Sinead El Sibai, Senior Vice President – Marketing and Michael Schmidt, Senior Vice President - Retail Support.
Follow Emirates 24|7 on Google News.