Indian, Pakistani teachers nominated for $1 million prize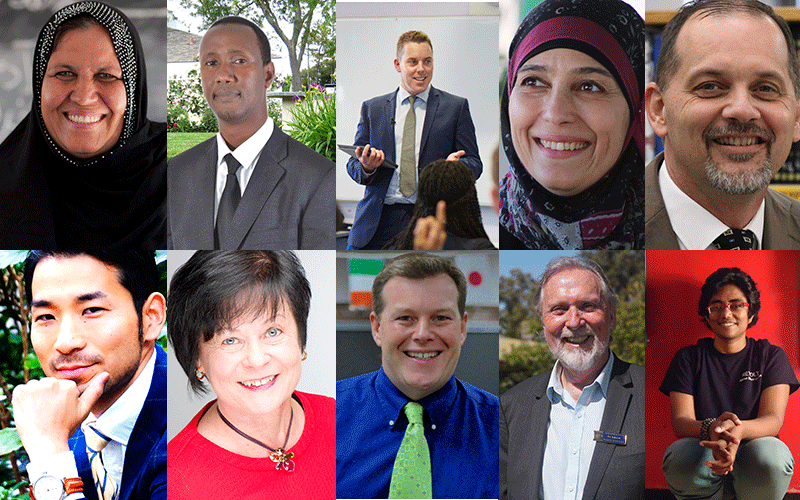 Now in its second year, and widely referred to as the Nobel Prize for teaching, the $1 million award is the largest prize of its kind.
The Global Teacher Prize was set up to recognise one exceptional teacher who has made an outstanding contribution to the profession as well as to shine a spotlight on the important role teachers play in society. By unearthing thousands of stories of heroes that have transformed young people's lives, the prize hopes to bring to life the exceptional work of millions of teachers all over the world.
The top ten finalists for the Global Teacher Prize 2016 are:
Aqeela Asifi, who teaches children at the Kot Chandana refugee camp, Punjab, Pakistan
Ayub Mohamud, a business studies teacher at Eastleigh High School in Nairobi, Kenya
Colin Hegarty, from Preston Manor School, a comprehensive in Wembley, North West London, UK
Hanan Al Hroub, from Samiha Khalil High School, Al-Bireh, Palestine
Joe Fatheree from Effingham High School, Effingham, Illinois, USA
Kazuya Takahashi, a teacher at the Kogakuin University Junior and Senior High School, Tokyo, Japan
Maarit Rossi, a maths teacher at Kartanonranta School, Finland
Michael Soskil from Wallenpaupack South Elementary School, Newfoundland, Pennsylvania, USA
Richard Johnson, a science teacher at Rostrata Primary School, Perth, Western Australia
Robin Chaurasiya, from Kranti School, Mumbai, India
The top ten have been narrowed down from 8,000 nominations and applications from 148 countries from around the world. By highlighting their stories the Varkey Foundation hopes that the public will be able to join in passionate debates about the importance of teachers. The winner will be announced at the Global Education and Skills Forum in Dubai on Sunday 13 March 2016.
Sunny Varkey, founder of the Varkey Foundation, said: "I want to congratulate all the top ten finalists for being selected from such a huge number of talented and dedicated teachers. I hope their stories will inspire those looking to enter the teaching profession and also shine a powerful spotlight on the incredible work teachers do throughout the world every day.
"The thousands of nominations and applications we received from every corner of the planet is testimony to the achievements of teachers and the enormous impact they have on all of our lives."
Ban Ki-moon, Secretary-General of the United Nations, said: "I count my teachers as among the most influential people in my life. Teachers are entrusted with nurturing the potential of the young and helping them blossom as productive and responsible members of society. It is hard to underestimate their value."
Bill Gates, Co-Chair of the Bill and Melinda Gates Foundation, said: "We were so excited by the plans to launch the Global Teacher Prize. I also want to recognise the leadership of Sunny Varkey, Founder of GEMS Education, who had the idea for this prize and is a great partner for our Foundation."
Academy Award winning actor Kevin Spacey, who sits on the Global Teacher Prize Academy that chooses the final winner, said: "When I was starting out, I was inspired by an older, more experienced actor, who told me that he thought I ought to go into acting professionally. That's the kind of mentoring and personal support that every young person needs to realise their potential.
"It's the kind of encouragement and guidance that good teachers give to their pupils every day. And that is why I support the Varkey GEMS Foundation's Global Teacher Prize. However much we achieve in life, we all began learning the basics from a teacher in a classroom. Those that teach - devoting their talents and time to nurturing the talents of others - deserve to be respected and celebrated."
The winner will then be chosen from ten finalists by a Global Teacher Prize Academy. All ten finalists will be invited to Dubai for the Award ceremony at the Global Education and Skills Forum (GESF) in March this year where the winner will be announced live.
Middlesbrough Teacher Richard Spencer, who became a top ten finalist for the Global Teacher Prize 2015, said: "The experience of reaching the Top Ten was incredible. Highlights included meeting world leaders; TV, radio, magazine and newspaper interviews; meeting the other finalists, and finding out more about their contributions to the teaching profession; and receiving numerous requests to speak at conferences and run workshops."
Follow Emirates 24|7 on Google News.