Indonesia stops sending maids to Mideast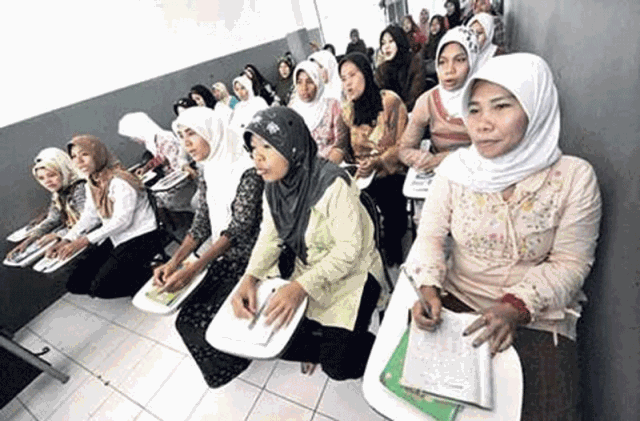 Indonesia has decided to gradually stop sending housemaids and other domestic workers to individual employers in the Middle East in line with a new law intended to protect its labour, a Saudi newspaper reported on Wednesday.

The new rules will affect all Middle Eastern countries and other parts of the world and are expected to be enforced this year, the Arabic language daily 'Al Eqtisadiah' said, quoting Mohammed Iqbal, director of the Indonesian Workers' Protection Department.

He said the new law allows sending maids and other workers to companies, which will be evaluated before an agreement to hire labour from Indonesia.

"The old system will gradually be stopped as it has become outdated.
"The new system will be enforced this year and it will ban hiring housemaids and other workers by individuals in Saudi Arabia and the other countries in the Middle East," he said.
He said the new rules would be enforced gradually and would affect 21 countries in the region, adding that they would also be applied to other countries later.

"We will select the best companies seeking to hire Indonesian labour.
"We want to protect our workers abroad. As for construction, oil industry and other sectors, we will continue sending workers to companies but not to individuals," he said.

Over the past three years, Saudi Arabia and Indonesia have haggled over an agreement on the hiring of domestic workers following rifts caused by reports of maltreatment of maids in the oil-rich Gulf Kingdom.

Two years ago, the two countries said they have reached an agreement on a new contract setting new work terms for the maids but it was not officially endorsed.
More than 1.5 million housemaids from the Philippines, Indonesia, Sri Lanka and other Asian and African nations work in Saudi Arabia.
The Kingdom has been under fire from local and foreign human rights groups over the death of some housemaids, who have been reportedly killed by their employers.
Pressure mounted in late 2010 following news that an Indonesian housemaid was severely tortured by her female employer.
Follow Emirates 24|7 on Google News.