iPhone 6 'eyes-free' Siri for Ferrari, 16 car brands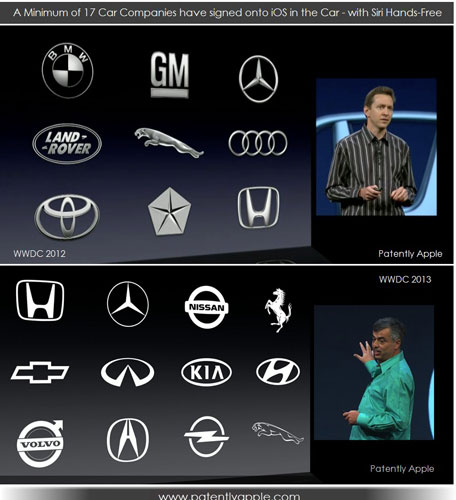 Distracted driving will be a thing of past, at least for the drivers of 17 car manufacturers who have tied up with Apple Inc. (NASDAQ:AAPL) to introduce voice-activated eyes-free control systems in their upcoming models.
Yes, yes, we know that Apple Inc. had revealed last year that it was working with carmakers to integrate the eyes-free Siri-activated control in vehicles, but what's new is that a plethora of new carmakers are joining the list of those that were already announced by Apple Inc. during last year's World Wide Developer Conference (WWDC).
And yes, Ferrari is one of those that will get the hands-free, eyes-free 'iOS in the car' system, available by next year (for the complete list, see below). Eddy Cue , Apple's Senior Vice-President of Internet Software and Services, made the announcement at WWDC 2013 that 'iOS in the Car' was going to be available in cars in calendar 2014.
With the iPhone 5S set to be out sometime this year (when, not if), it is clear that it'll be the forthcoming generation of Apple's iPhone (and not the one that'll follow it) that will host the OS to support Apple's eyes-free digital services for the car.
According to PatentlyApple.com, Apple appears to have the lead in one of the next battlefronts in the market. "Patently Apple has discovered that Microsoft is also 'eyeing' this market," says the site.
However, Microsoft-powered Windows-enabled SYNC, an integrated in-vehicle communications and entertainment system, has been already present in Ford vehicles since late 2007.
Nevertheless, Apple has been making noises since last year that the launch of 'iOS in the car' will bring greater automobile integration to the iPhone with 'eyes-free,' a feature that will allow a car to bring up Siri voice control.
For those who might not be aware of Apple's eyes-free initiative, this is what Apple officially says: "Apple is working with car manufacturers to integrate Siri into select voice control systems. Through the voice command button on your steering wheel, you'll be able to ask Siri questions without taking your eyes off the road," the Cupertino-based giant proclaims on its website.
"To minimise distractions even more, your iOS device's screen won't light up. With the Eyes Free feature, ask Siri to call people, select and play music, hear and compose text messages, use Maps and get directions, read your notifications, find calendar information, add reminders, and more. It's just another way Siri helps you get things done, even when you're behind the wheel," it notes.
Of course, as mentioned earlier, voice commands in cars are no longer a novelty, with Ford Motors introducing Microsoft-powered SYNC controls in its cars as long back as in 2007. The factory-installed SYNC allows users to make hands-free telephone calls, control music and perform other functions with the use of voice commands.
But while such support has been hitherto limited to Ford Motors' vehicles (including Lincoln and Mercury brands), Apple's iOS in the car will be much more pervasive, with the number of carmakers that have already jumped on the bandwagon swelling to at least 17, according to PatentlyApple.com.
Here's the complete list of carmakers that have committed to Eyes Free Siri integration in the next 12 months.
Acura
Audi
BMW
Chevy
Chrysler
Ferrari
General Motors
Honda
Infinity
Jaguar
Kia
Land Rover
Mercedes-Benz
Nissan
Opal
Toyota
Volvo
In his WWDC 2013 keynote, Eddy Cue said: "Now, 95 per cent of the cars being sold today have integrated music playback and control from an iOS device." Of course Apple isn't content with just that.
"We want to take this integration to a whole other level," he said. "What if you could get iOS on the screen that is built into your car? So that you could make phone calls, play music, go to maps … get your iMessages right on the screen of your car and eyes-free using Siri," Cue asked.
All that's about to happen within the next few months.
Now if only Apple's iOS in the car can find a solution to Dubai's traffic woes!
Follow Emirates 24|7 on Google News.