iPhone 6 hottest selling smartphone in Dubai as DSF bargains peak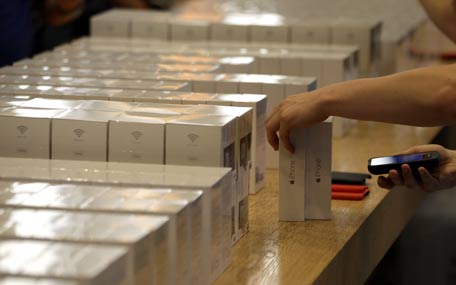 Apple's spearhead smartphone iPhone 6 has emerged as the top selling smartphone during the first half of the ongoing month-long Dubai Shopping Festival, electronics retailers in the emirate maintain.

"Across categories, among smartphones, the iPhone 6 has really been the big seller for us, now that availability and stocks have stabilised as per demand," Nadeem Khanzadah, Head of OmniChannel Retail, Jumbo Electronics, told Emirates 24|7. "Mobile phones have done well generally this DSF," he says.

"There is an increase in the demand for smartphones," agrees Mahesh Chotrani, Assistant Vice-President, Jacky's Electronics, and also lists the iPhone 6 among the top-sellers.

Khanzadah maintains that since its Dubai launch in late September last year, the iPhone 6 saw erratic supply of devices in certain configurations. "The second half of December and the first half of January have been the first 30 days to have seen 'regular' supply of the iPhone 6 in the in-demand colour and capacity configurations," he says.

"Both the iPhone 6 and the iPhone 6 Plus are selling well, with customers getting used to the bigger screen sizes," he maintains, elaborating on the benefits of the bigger screen for users.

Jacky's Chotrani lists "the iPhone 6, Samsung Edge, the Huawei Honor 5c and Lenovo Vibe X2" as the hottest selling smartphones this DSF.

"DSF this year has been great for Jacky's," adds Chotrani. "We have seen a growth of 12 per cent in sales vis-à-vis last year," he adds.

"We're looking forward to a growth of 20 per cent in sales during DSF," adds Jumbo's Khanzadah. On the other hand, Landmark's electronics retailer Emax expects sales to surge by 30 per cent this DSF while Eros Group expects a sales growth of 25 per cent.

"The Galaxy Note Edge too has been selling well for us, especially after Samsung launched the scheme with the 'Dh1,000 gift vouchers'. The Samsung Galaxy Note 4 has done well too, as has the Sony Xperia Z3 and the HTC M8, among the premium smartphones," adds Jumbo's Khanzadah. "In the affordable segment, Oppo has begun showing good numbers, as well as Obi," he says, without mentioning specific devices.

Amit Rupchandani, Obi Mobiles' managing director for the MEA region, expects 1.5 million tourists to visit Dubai during the 32-day shopping extravaganza. "Normally, DSF accounts for close to 30 per cent of the annual sales turnover for the mobility segment," says Rupchandani. "We are a new player, but are very positive about our growth numbers this DSF," he adds.
Follow Emirates 24|7 on Google News.