JLT tower fire victims: Tamweel freezes payments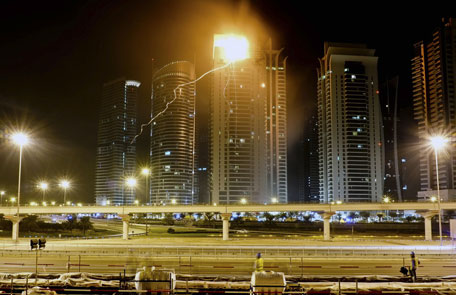 Tamweel on Sunday announced that it will not charge monthly mortgage payment installments from the customers of its blazed tower in Jumeirah Lake Towers until the apartments are ready again to be occupied.
It will freeze installments of 62 of its customers that owned one or more units in the Tamweel Tower. The company will not charge monthly mortgage payments till the apartments are ready again to be occupied.
This was announced by Tamweel during the first meeting with the Home Owners Association after fire gutted parts of the building earlier this month.
"We can confirm that Tamweel will put a break on the installments of its customers in Tamweel Tower," said Hamid Chinoy, Chief Operating Officer at Tamweel.
A Tamweel spokesperson present at the meeting said: "We have 62 customers and we will approach each of them individually. At this point we are indentifying these customers."
Some owners complained that regardless of the incident, their installments had already been deposited with Tamweel.
"Some installments went through," acknowledged the spokesperson. There were some issues with the bank and we are resolving this. But we can confirm that if residents don't benefit from the apartment there will be no collection of installments."
The announcement was received with applause and appreciated by the owners. However, there is a dilemma for those owners who purchased apartments in cash, as many of these owners rely on the income of rent paid by the tenant.
The relationship between owner and tenant and agreements reached between these two parties were outside the scope of this meeting and advised to be dealt with according to the judgment of the owners.
Palm Utilities announces fee waivers to the victim
Palm Utilities, provider of district cooling services in Jumeirah Lakes Towers, has also announced the launch of a social initiative to support the victims of the recent Tamweel Tower blaze in Jumeirah Lakes Towers (JLT), Dubai.
Marwan Al Naqi, Chief Executive Officer of Palm Utilities, said: "This initiative underlines the genuine commitment of Dubai's business community to work together for social causes. Being an integral part of the society, we look forward to providing all possible assistance and fee waivers to the victims of the fire at the Tamweel Tower which has affected nearly 160 families and 400 individuals."
MUST READ:
JLT Tamweel Tower blaze impact: Who will be burnt more - tenants or landlords?
Follow Emirates 24|7 on Google News.