Jordanian wins 2 cars, Dh100k... again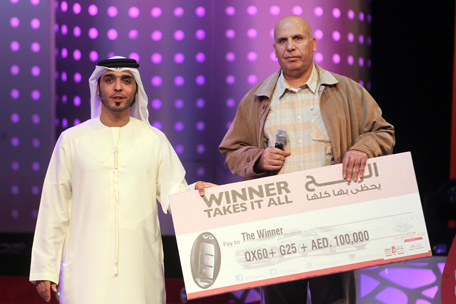 It's not just luck that spins the wheel of fortune in your favour. Not when it happens more than once. It has got to be something exceptional.
That's probably how you could explain Jordanian Jehad Mohammed's double win at the Dubai Shopping Festival.
Just two years after he won the Infiniti mega raffle draw, the 54-year-old has won it again this year.
He walks away with two Infiniti luxury cars - QX 60 and G25, and a whopping cash prize of Dh100,000.
The Jordanian has been buying a ticket to the Infiniti draw every year, and this year, he had bought four tickets.
"I take part in DSF raffles every year. I am so happy because this is the second time I have won," said Jehad.
"These raffle draws can change anyone's life forever."
When he won in 2012, he used the cash for his children's college, to help his family and also set aside some for the future.
This time also he plans to save some and set aside some for his children's education.
Shoppers are eligible for the Infiniti Mega Raffle on buying a coupon for Dh200 at Gold Souk, main shopping malls, selected ENOC and EPPCO petrol stations and Global Village.
, , paving the way for a life-changing moment for one lucky winner every day throughout the festival. Participants can obtain a raffle ticket for AED 200 from
Follow Emirates 24|7 on Google News.