Jumeirah Central makes international debut at MIPIM 2017, world's leading property show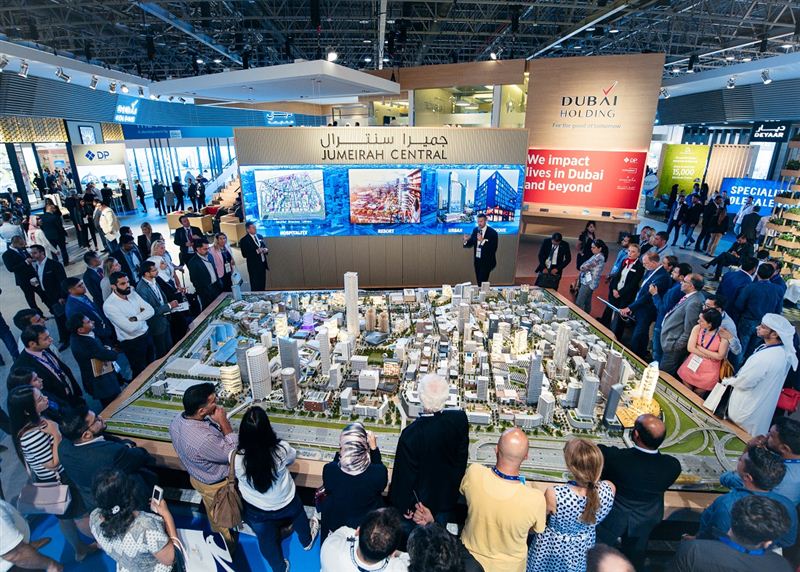 Jumeirah Central, Dubai's new urban mixed-use district, will make its international debut at MIPIM 2017, the annual gathering of the world's most influential international property players. Master planned by Dubai Holding, the global investment holding company, Jumeirah Central is already attracting significant interest from international institutional investors looking to access Dubai's fast growing market.
At MIPIM, Jumeirah Central will be showcasing its complete masterplan at Stand C16.A and presenting investment opportunities in a bouquet of products including premium, Grade A international-style office buildings.
Comprising 4.4 million sq. m of gross floor area (GFA), Jumeirah Central will become the most accessible, functional and valuable real estate in Dubai, and introduce innovative urban planning and quality of life concepts to the region. The landmark development includes 278 individual buildings, and is planned as a vibrant network of 75 walkable city blocks that have been designed to a human scale to create a permeable and intuitive urban fabric.
Morgan Parker, Chief Operating Officer, Jumeirah Central, said: "By benchmarking against the most successful cities globally, we combine proven fundamentals with the latest innovations to create high-value real estate that will stimulate inbound, international institutional investment into the region. Dubai Holding has worked closely with government entities so that Jumeirah Central can serve as a blueprint for how cities can improve the quality of life for residents. As the industry's most influential platform to access these players, MIPIM is an ideal location to connect with forward-looking investors who share this priority."
Jumeirah Central's primary consideration is the strategic, operational, financial and legal requirements of global institutional investors. Its key value proposition is the site's strategic location in the heart of Dubai, its multi-modal connectivity and the economic resiliency it will enjoy being a vibrant blend of mixed uses coupled with an extensive network of parks and public spaces. Jumeirah Central offers institutional investors an opportunity to create geographic diversification, especially in growing regions like the Middle East and is creating assets at an ideal deal size to suits their requirements.
Jumeirah Central is promoting a greater understanding of the requirements of institutional capital among local banking and finance sector and collaborating with available legal infrastructure in Dubai to create an environment that is most conducive to attracting inbound institutional investment.
Morgan Parker will speak at a panel discussion, "How can Real Estate investment strategies foster a better life for people?" In this discussion, Mr Parker will highlight Dubai's role as a leader in shaping modern cityscapes and enhancing urban experiences:
Commenting on this important theme, Mr Parker said: "Today, cities in the Gulf region are relatively small and young, and are thus ideally positioned to meet the changing social needs of rising urbanisation. The opportunity exists for cities like Dubai, to take a leadership role in responding to increasing urbanisation and to promote urban cohesion. Real estate developers in these cities are shaping the way communities evolve by introducing more mixed-use development, greater access to multi-modal transportation networks, encouraging more walking and increasing social interaction. In order to maximise the opportunities of urbanisation, Gulf cities will focus on the public over the private, and the shared over the individually owned."
The first phase of Jumeirah Central, located opposite Mall of the Emirates on Sheikh Zayed Road, the main artery of the UAE, will comprise 67 mixed-use projects and 1,488,800 sq. m, including 2,500 residential units, 16 hotels, 13 office buildings and a mall development, along with community facilities such as parks, hospital and school.
Established in 1990, the 2017 edition of MIPIM is expected to draw more than 23,000 participants representing 90 countries. Participants include the international property industry's most influential players, including architects, developers, investors, policymakers and end-users. The four-day event, taking place from 14-17 March, facilitates networking, learning and transaction opportunities across all property sectors – office, residential, retail, healthcare, sport, logistics and industrial.
Since its establishment over a decade ago, Dubai Holding has played an integral role in developing strategic projects critical to Dubai's economic growth; developments that have transformed the City's skyline include; Burj Al Arab Jumeirah, Madinat Jumeirah Resort, Dubai Internet City, Dubai Media City, Jumeirah Beach Residence, with a range of new developments including Marasi Business Bay, a waterfront destination along the Dubai Water Canal.
Follow Emirates 24|7 on Google News.