Kalimat Foundation for Children's Empowerment provides 250 books to visually impaired children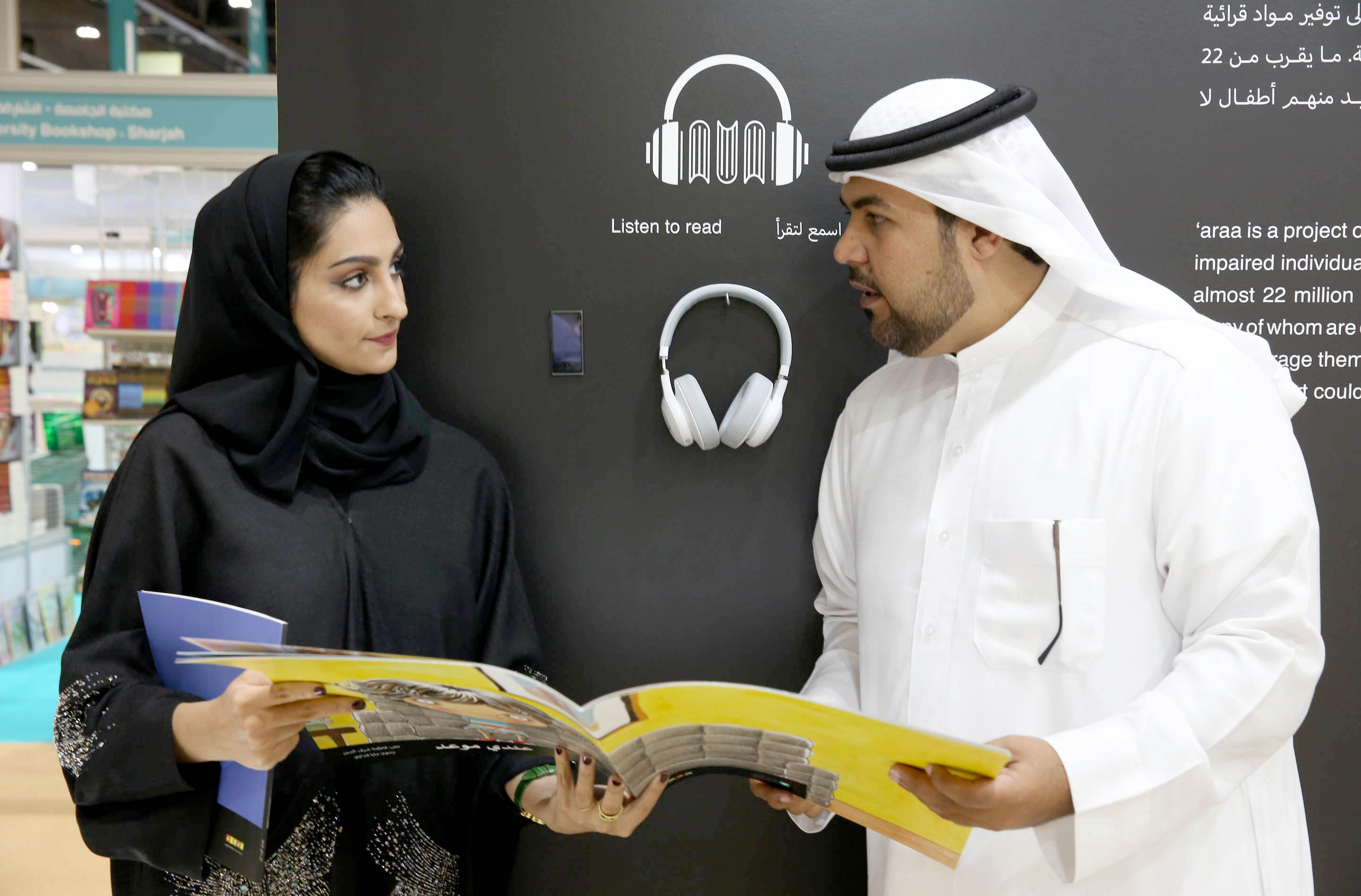 Kalimat Foundation for Children's Empowerment, KF, the Sharjah-based non-profit children's organisation, has donated 250 books in support of visually impaired children and those with complete sight deficiency in the UAE.
The donation is in line with KF's mission to provide books, reading material and sources of knowledge for children around the world to encourage them to read.
Amna Al Mazmi, Manager of KF, handed over the collection to Ahmed Saeed Allai, Chairman of the Social Committee of the Emirates Association of the Visually Impaired at Kalimat Group's pavilion at the Abu Dhabi International Book Fair, which is currently underway at the capital's Abu Dhabi National Exhibition Centre, ADNEC.
Included in the material is a set of Braille books for visually impaired children, as well as large print picture books for children with sight deficiency. The books will be distributed to children by the association.
"Children who are affected by impaired eyesight face numerous challenges, among which are difficulties in interacting with the environment around them. Other issues they must overcome relate to ways of acquiring knowledge, as mainstream education and learning relies heavily on the ability to effectively see," said Amna Al Mazmi, Manager of KF.
"KF's donation of books is aimed at providing support to this category of young people and to affirm to them that their issues are at the forefront of our attention. We will always be dedicated to providing them with the help they need to live enriched and fulfilled lives. This aligns with our strong belief in children's right to read, to acquire knowledge and to have the ability to shape their own futures," she added.
"It is a child's fundamental right to have access to books and to sources of knowledge, irrespective of their circumstances. This is exactly what the Kalimat Foundation is doing, with its actions inspired by Sheikha Bodour bint Sultan Al Qasimi, Founder and Chairperson of Kalimat Foundation for Children's Empowerment. Sheikha Bodour believes that concerted efforts can realise the full potential of children's minds and allow those with special requirements to be productive members of the community who can contribute effectively to nation-building and progress," Al Mazmi emphasised.
Adel Al Zamar, Chairman of Emirates Association for the Visually Impaired praised KF's initiative of providing braille books and large print picture books. He noted that the Arabic library lacks these types of publications that suit visually challenged children, and expressed the hope that this co-operation would continue with KF to serve visually impaired children.
He extended his sincere thanks and appreciation to the Kalimat Foundation for dedicating a number of publications printed in Braille and large print picture books at the Abu Dhabi Book Fair.
Follow Emirates 24|7 on Google News.