Khaled bin Mohamed bin Zayed visits 16th edition of IDEX 2023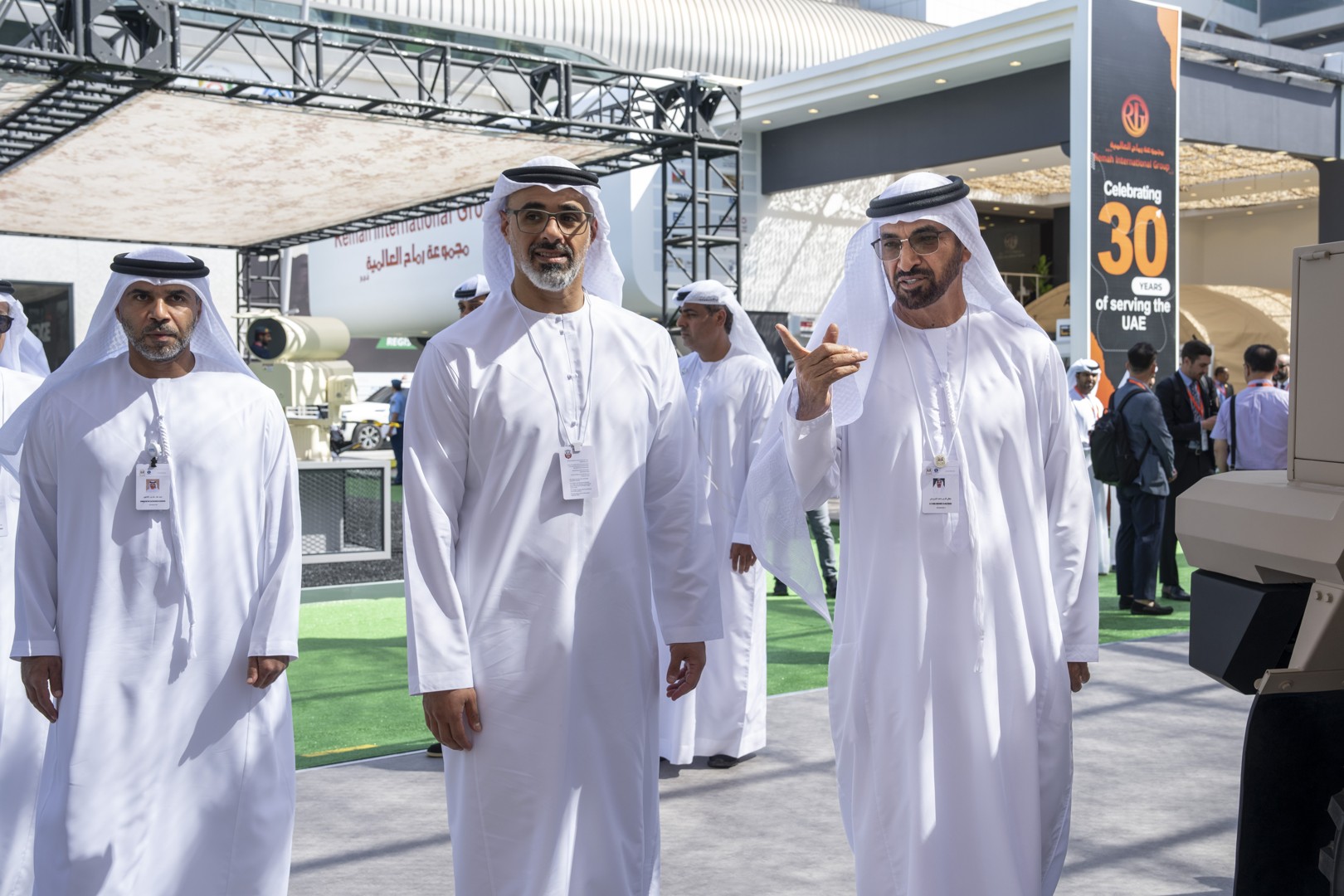 Hi.H. Sheikh Khaled bin Mohamed bin Zayed, member of Abu Dhabi Executive Council and Chairman of Abu Dhabi Executive Office, has visited the International Defence Exhibition (IDEX), which brings together defence industry leaders and experts from around the world to build partnerships and showcase the latest innovations in the field.
Held under the patronage of President His Highness Sheikh Mohamed bin Zayed Al Nahyan, the 16th edition of IDEX is being held at Abu Dhabi National Exhibition Centre (ADNEC) until 24 February.
During the visit, Sheikh Khaled bin Mohamed visited a number of pavilions of UAE-based companies – the number of which has increased by 17 percent on the previous edition of IDEX to reach 41 exhibiting companies in the 2023 edition – including Edge Group, where he reviewed advanced solutions to enhance reconnaissance, logistics operations, and a range of military operations.
Sheikh Khaled also visited the Tawazun Council pavilion, where he was briefed on the latest solutions and initiatives that are strengthening the UAE's defence and security sector through sustainable and innovative technologies that are accelerating industry growth and enhancing national capabilities. In addition, he was briefed by experts at the pavilions of leading international security companies on advanced air, land and sea defence products.
Sheikh Khaled bin Mohamed was accompanied by Mohamed Ali Al Shorafa, Chairman of Department of Municipalities and Transport, and Humaid Matar Al Dhaheri, Managing Director and Group CEO of Abu Dhabi National Exhibitions Company (ADNEC).
IDEX attracts companies from around the world to exhibit products and services in the defence sector, and showcases homegrown innovations that are on par with international products on quality, design and performance.
Follow Emirates 24|7 on Google News.