Khalifa Foundation launches first food outlet market in Dubai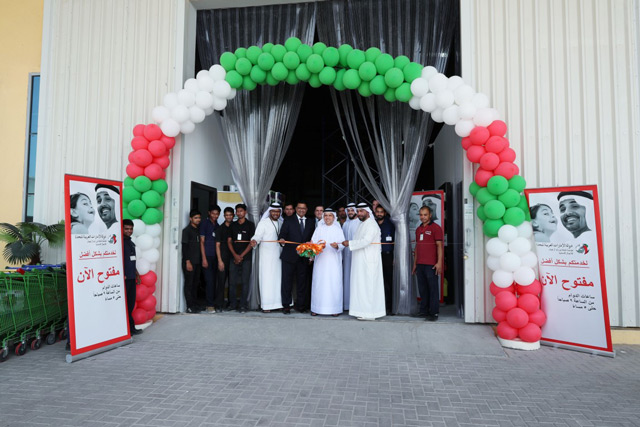 The Khalifa bin Zayed Al Nahyan Foundation has launched, in cooperation with the Abu Dhabi Co-operative Society, Abu Dhabi COOP, the first food outlet market that sells food supplies to UAE nationals and residents, with the exception of rice and flour, which are only available to UAE nationals, at cheap prices.
The launch of the market, which is located in Nad Al Hammar, Dubai, is part of the foundation's efforts to distribute food supplies in the Northern Emirates and help local people buy food supplies close to their homes. It is also a continuation of the implementation of an order by President His Highness Sheikh Khalifa bin Zayed Al Nahyan in May 2012 to transform the seasonal "Mir Ramadan Project" to an ongoing project, which will benefit people throughout the year.
The market was launched by Mohammed Haji Al Khouri, Director-General of the Foundation, and Bejoy Thomas, Chief Operating Officer of Abu Dhabi COOP and SPAR UAE, with the attendance of several officials and the supervisors of the centre.
Al Khouri said that the idea of a food outlet that sells food despite rising prices has received wide support from around the world and has begun to spread in the Arab world, as it offers products at cheap prices while pointing out that the price of food is increasing annually around the world.
He added that the initiative aims to provide basic food supplies to UAE nationals and residents at subsidised prices, by selling them at prices lower than those in local markets, which can be 25 percent less.
He explained that the initiative began with rice, but today, there are now over 63 basic food supplies sold by the foundation, due to its strategic partnerships with national companies, institutions and factories, which aim to promote local products and strengthen the national economy. The foundation created the initiative to benefit both UAE nationals and foreign residents, he added.
"The launch of the new centre that sells subsidised goods to UAE nationals in Dubai is part of our social responsibility towards individuals and the entire UAE community. It is also a part of an integrated strategy between the Khalifa Foundation and the Abu Dhabi COOP to develop the social responsibility sector, through supporting the market's stability and limiting inflation. The new centre is the outcome of our positive cooperation," Thomas said.
Follow Emirates 24|7 on Google News.