Loader found dead in container; Suffocation suspected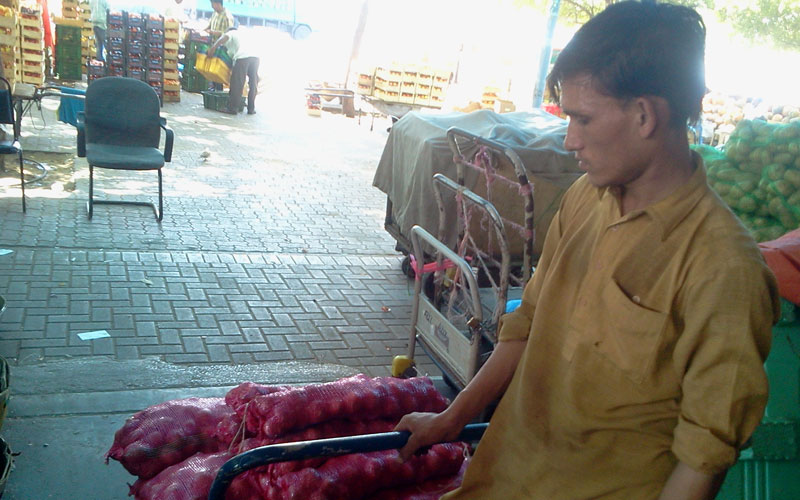 A 55-year-old Indian porter found dead inside a massive onion container is likely to have died of suffocation because of the onion odour, the chief of Dubai's criminal investigation was reported on Monday as saying.
Brigadier Khalil Al Mansoori said the body of worker at Al Awir vegetable market had been handed to the coroner to determine the precise cause of death.
"It was noticed that the dead man had blue signs on the face and lips, which indicate his dead was caused by suffocation because of low oxygen levels," he said, quoted by the Sharjah-based Arabic language daily 'Al Khaleej'.
"According to forensic experts, onion inhales oxygen and exhales carbon dioxide, which leads to asphyxia and eventually death."
Mansoori urged shipping firms not to allow their workers to sleep in loaded containers, adding that he had instructed Rashidiya police to mount an awareness drive for porters to alert them about the risks of sleeping inside containers and other places which lack ventilation.
"We are now awaiting a final forensic report about the exact cause of death of that Indian loader…details will be released later," he said.
The worker from Tamil Nadu state was found dead inside an onion container on Sunday morning. He had worked till night loading onions in a 40-feet container and decided to sleep inside the container because of the cold weather.

EARLIER STORY:
An Indian worker from Tamil Nadu at the Al Awir Fruits and Vegetables Market was found dead inside an onion container on Sunday morning.
The worker, in his 50s, worked till night loading onions in a 40-feet container. Because of the cold weather, he chose to sleep inside the container, partially filled with onions.
According to Dubai Police, the dead man was found on Sunday morning and the cause of death is being investigated. Preliminary reports suggest that he died of carbon dioxide inhalation from the container. His body has been moved to the police morgue.
"Because of the cold weather, many workers who usually sleep on the pavements and under the trees have shifted to containers, which are warmer. It is not known whether the man died of suffocation after someone closed the container without knowing that someone was sleeping inside," said a trader at the vegetable market. "He could have died of carbon dioxide produced by the onions in the locked container," sources said.
The worker, who lives in the Hor Al Anz area, chose to sleep in the container rather than travel back to his accommodation and return to work early next morning.
"There are no fixed timings for workers in the fruit and vegetable market. After the market was shifted from Deira to Al Awir. Many workers continued to stay in their old accommodation. They have to work at odd hours, sleep wherever they find temporary shelter and resume work. It is common to see workers sleeping under the trees, on pavements and containers. During the cold season, many workers find it convenient to sleep in containers," said an Asian worker.
According to sources in the vegetable market, containers with Advanced Fresh Air Management systems allow low levels of oxygen as onions can tolerate up to 10 per cent carbon dioxide which helps reducing sprouting, root growth and decay of the vegetable. By increasing the carbon dioxide level and minimising the ventilation openings, such containers can minimise water loss from onions and build up carbon dioxide levels, which can help to preserve onions.
Taxi driver found dead in RAK
Meanwhile, a 40- year-old Indian taxi driver was found dead on Sunday morning.
Manikuttan, a Keralite from Thiruvananthapuram, was found hanging from the celing at his accommodation in Al Julan area of Ras Al Khaimah.
According to his friends, Manikuttan, who is survived by two children and wife, returned from work and reportedly committed suicide.

Follow Emirates 24|7 on Google News.