Local heart surgeon first in UAE to use rare technique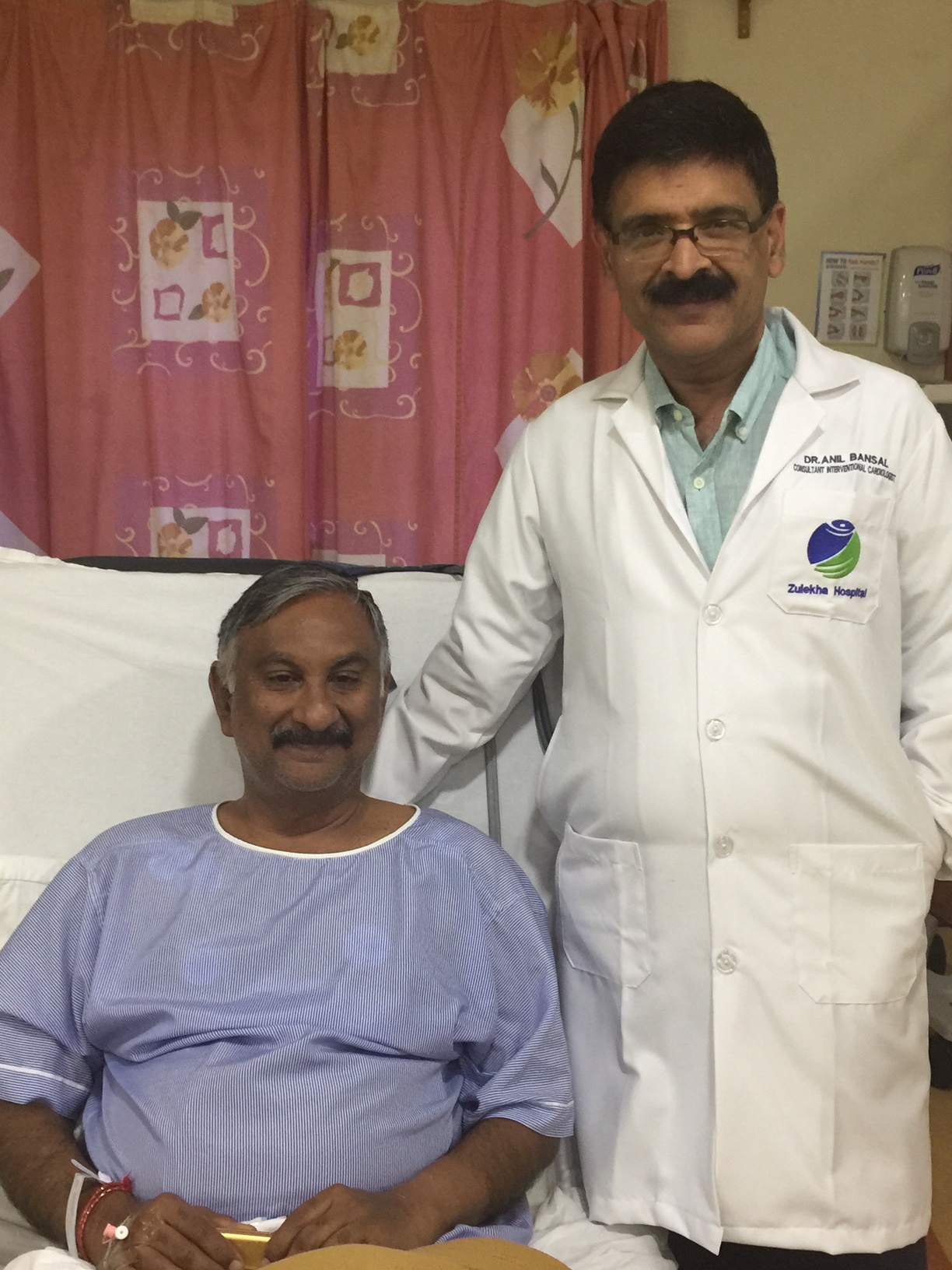 Zulekha Hospital surgeon has become the first in the UAE to perform a coronary surgery using a unique and rare technique involving a surgical drill.
Completed only six times across the globe, the rotablation angioplasty procedure was performed on Shrikumar Nedungadi, a UAE resident who had been experiencing shortness of breath and upon examination was diagnosed with advanced coronary heart disease that put him at risk of a heart attack.
With more than 30 years of experience in the field of coronary interventions, Dr Anil Bansal, Consultant Interventional Cardiologist at Zulekha Hospital Dubai said: "The patient had a very tight and calcified blockage in two of the three main arteries and we couldn't perform a standard angioplasty as our tools would fail."
While a regular procedure of removing arteries blockage and widening them involves the use of balloons and stents, Dr Bansal decided to use a rotablator, a surgical drill, to break up the plaque inside Nedungadi's arteries.
Dr Bansal added: "Initially, we put a stent into the patient's artery, but we couldn't expand it. The blockage was so hard that any balloon would break, so we decided to use a rotablator to cut through the stent and then break the hardened, calcified area."
Discharged from the hospital only one day after the surgery, the patient said: "I am very lucky to have undergone a procedure that is considered extremely complex and rare across the global healthcare system.
"I'd like to offer my heartfelt thanks to Dr Bansal and his entire team for helping me go through this difficult phase with their expert advice, upbeat attitude and warm treatment during my stay at the hospital."
Serving as a tool in the high-tech treatment options available for those diagnosed with coronary heart disease, rotablation provides patients with a feeling of relief and increased levels of energy when their newly open arteries pump enough blood to their heart and nourish their body.
Nedungadi added: "I knew the procedure was particularly difficult, but Dr Bansal explained the process well to me and my wife and I knew I was in the safest of hands.
"Yet, it still surprised me how well I felt the following day and only within a week I went back to leading a normal, healthy life. I think more people should know about this kind of treatment and I am indebted to Dr Bansal for giving me a second life."
Administration Director, Zia ur Rahman Shah says, "We are glad to have been able to resolve the worst of a cardiovascular complication in this case and make a difference to the patient's life and his family. The need of expertise and equipment, alongside a capable team at the golden hour is important and we are confident our facilities are well equipped to manage such scenarios successfully."
Cardiovascular disease often develops as a result of an unhealthy lifestyle combined with obesity and diabetes. According to a report by the Dubai Health Authority and Dubai Statistics Centre, which gathered data from 3,298 Emirati and expatriate families in 2014, it is responsible for 30 per cent of deaths in Dubai each year.
In line with Zulekha Hospital's commitment to addressing the growing obesity rates across the country, the hospital recently launched a 'No More Excuses' campaign, aimed at urging UAE residents to start taking responsibility for their health and wellbeing.
The first phase of the campaign offers free appointments with one of Zulekha Hospital's specialist cardiologists in Dubai or Sharjah, who will oversee free ECG, blood pressure, sugar and cholesterol checks. All UAE residents can make appointments by visiting promise.zulekhahospitals.com
Follow Emirates 24|7 on Google News.