London airport gets a Burj Al Arab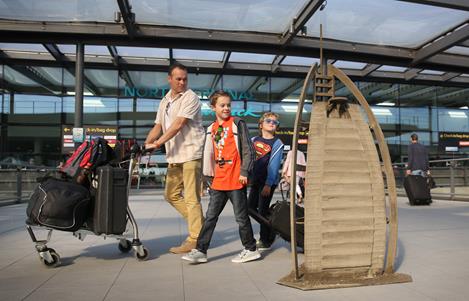 Gatwick Airport, Britain's second largest airport, has unveiled sculpture of Dubai's luxurious hotel Burj Al Arab, reflecting the US-based Forbes magazine's report last week when it placed emirate among the world's most influential cities.
The sculpture, which marks Emirates' A380 flights to Dubai this year, also reflects Dubai's growing role in the global aviation industry – thanks to the world's largest airline (Emirates) in terms of international passengers and the biggest airport (Dubai World Central).
The 2-metre-high sculpture of Dubai's luxurious hotel will also raise emirate's profile as a major tourist destination.
The British airport also unveiled a sculpture of New York's Chrysler Building at the terminal.
"At around two metres in height, the impressive sand sculptures depict New York's Chrysler Building and Dubai's Burj Al Arab and symbolise just two of the iconic landmarks that can be reached via Gatwick's long-haul routes. Earlier this year, Emirates began operating one of its three daily services to Dubai from Gatwick using its A380 aircraft, while in July Norwegian launched direct flights to New York City from Gatwick on the Dreamliner," the airport said in a statement on its website.
The sculptures, which will be installed for two months at the airport, will be viewed by around 7.5 million passengers expected to pass through Gatwick's terminals during the period – thus raising profile of the emirate.
Insights gathered from Gatwick's Airport Passenger Panel, an independent body set up to highlight potential improvements to the airport passenger experience, highlighted that UK airports needed more 'heart and soul'. As a result, over the last few years Gatwick has invested in brightening its spaces and building its contemporary art collection.
Zeus, the artist for the two new sculptures, said: "I am delighted that these two urban sculptures will be exhibited at London Gatwick, the inspiration for which was taken from two of the flagship cities Gatwick flies to – New York and Dubai. Airports are symbols of modern metropolises like London, so what better place to display the works where millions of passengers can see them. My aim is to give people passing through Gatwick's terminals a place to reflect before they travel and when they return home to London."
Altogether, Gatwick Airport now serves over 200 destinations worldwide - more than any other UK airport – with 20% of passengers travelling to business destinations such as New York and Dubai. Gatwick has the largest domestic and European networks of any London airport and also serves over 40 long haul destinations from the US and Canada to China and Vietnam. In September, Gatwick will launch a new route to Jakarta with Garuda Indonesia.
Follow Emirates 24|7 on Google News.