Lone survivor of villa fire that killed family receives Rulers' help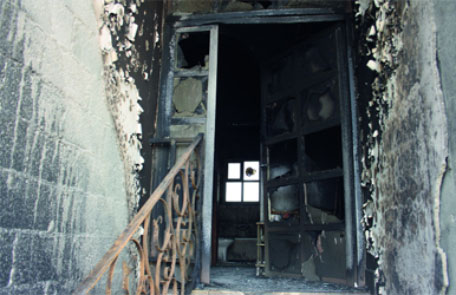 His Highness Sheikh Humaid bin Rashid Al Nuaimi, Supreme Council Member and Ruler of Ajman has ordered payment of a month salary to Amer Abdullah Amer who escaped a fire accident at his house but lost his mother, three sisters and the maid in the accident.
Sheikh Humaid will also shoulder expenses of Amer's study until his graduation from the university and recruitment. He ordered the Humaid bin Rashid Al Nuaimi Charitable Foundation to renovate the burnt house and rent it for the benefit of Amer.
Meanwhile, Ammar bin Humaid Al Nuaimi, Crown Prince of Ajman, offered this evening condolence to Amer and other family members.
RAK Ruler orders renovation of burnt house
His Highness Sheikh Saud bin Saqr Al Qasimi, Supreme Council Member and Ruler of Ras Al Khaimah has ordered the Ras Al Khaimah Charitable Foundation (RAKCF) to oversee the purchase and distribution of new air conditioners to some families in the emirate.
Sheikh Saud also issued directives to renovate a family house which was destroyed recently by fire.
The expenses of the new ACs and renovation work will be shouldered by Sheikh Saud, said Ahmed Rashid Soufa Al Zaabi, Secretary General of the RAKCF.
EARLIER STORY: 3 teen Emirati girls, mother, 2 maids die in Ajman villa fire
Four members of an Emirati family and their two housemaids died in a villa blaze in Ajman, UAE, on Tuesday morning.

Sources said a short-circuit caused the fire which engulfed the whole house in minutes. The sad incident happened in Al Hamidiya area of Ajman.

Among the dead are the mother, three teenage girls and two housemaids. However, a teenage boy escaped with burns after he managed to jump out of the house. He has been hospitalised for treatment in Ajman hospital.
Sources close to the family said that the Emirati woman's husband recently died in a road accident.
Brigadier Saleh Al Matroush, Director-General of Ajman Civil Defence, said the mother had called the civil defence to help her family. But she collapsed and died while talking to the civil defence official on the phone.

The civil defence team tried to contact her but could not. There was no response from her side.

Al Matroushi revealed that the civil defence intends to introduce a GPS system whereby the location of the caller could immediately be idenitified - helping the civil defence team to cope with the situation better.
MUST READ:
Dubai couple's miraculous escape in India...



16 'partners' kidnap businessman, Dubai Police rescue him



Abu Dhabi seizes 104 cars with smudged plates
Follow Emirates 24|7 on Google News.