'Love for Zayed' mobile gallery launched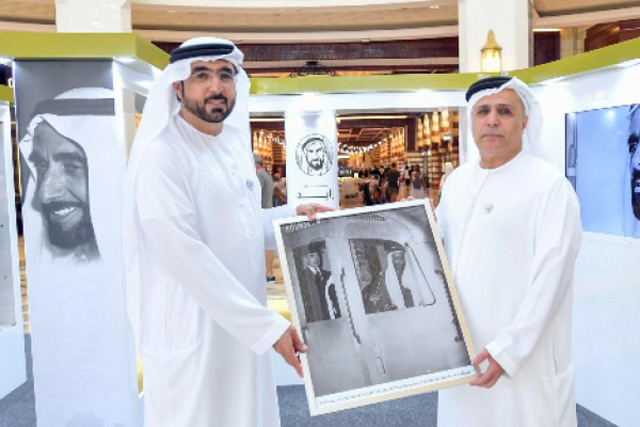 The Director-General and Chairman of the Board of Executive Directors of Roads and Transport Authority, RTA, Mattar Al Tayer has inaugurated 'Love for Zayed' mobile gallery, in celebration of Year of Zayed.
The RTA is staging the first segment of the mobile gallery for a week at Dubai Mall in collaboration with the National Archives to celebrate the Year of Zayed. The exhibition narrates the career highlights of the late Sheikh Zayed bin Sultan Al Nahyan and his historical role in establishing the Federation and building the Nation.
Al Tayer toured the exhibition, which features a 3D design of the name 'ZAYED' in Arabic letters, which showcases array of rare photographs and documentaries prepared by the National Archives. The exhibits describe the life of the founding father along with his ability & determination to overcome the challenges encountered in the course of building the nation.
"The mobile gallery offers an extensive view of the life of the late Sheikh Zayed bin Sultan Al Nahyan, which articulates a leader's ambition and the will of the people in realising the first successful Arab union model. Sheikh Zayed's persona ranks high in the history of the most influential contemporary leaders," said Moaza Al Marri, Director of Marketing and Corporate Communication, at RTA's Corporate Administrative Support Services Sector.
"The mobile gallery will run for a week and shift to several other venues in cooperation with Emaar Malls, Nakheel and Serco in Dubai Mall, Ibn Battuta Mall, Marina Mall, Al Ras Metro Station, Etisalat Metro Station and Dragon Mart. Volunteers from RTA and National Archives are deployed to communicate with visitors and acknowledge their queries," added Al Marri.
Farhan Al Marzouqi, Director of the Corporate and Community Outreach Department at the National Archives hailed the cooperation with RTA in holding this mobile gallery to celebrate the Year of Zayed. "The mobile gallery is a tremendous contribution from the National Archives to support RTA's efforts in celebrating national events. It offers a perfect opportunity to educate the upcoming generations about the legacy and achievements of the late Sheikh Zayed. It also familiarises residents and visitors with the life of a founding leader saddled with arduous difficulties," he said.
"In the context of Zayed Centennial initiative, the National Archives has provided several photographs and documentaries for this mobile gallery offering a rich insight into the foundation of the UAE under the leadership of the late Sheikh Zayed," he added.
Follow Emirates 24|7 on Google News.