Maid wins DSF Infiniti Mega Raffle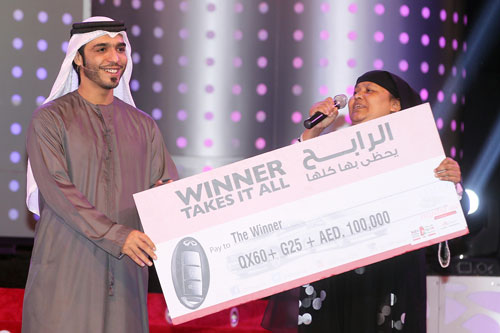 A Bangladeshi mother of two has had a dramatic turn in fortune this DSF at the Infiniti Mega Raffle. Liza, who has been working for an Arab family in Sharjah for the past 14 years, relied upon her acquaintance to buy the ticket for her, to put down her name on it and to drop it in the raffle box.
For the past five years, Nasiruddin has been loyally doing the needful, with his contact number on the ticket, as Liza cannot write and speak English and does not own a personal phone. In return, he is rewarded by Liza who extends a small gift in the form of Dh20 as a token of appreciation.
Although Liza banked upon Nasiruddin to participate in the raffle, she was the first to learn about her grand win. She watched the live telecast of the draw at Global Village and discovered that her dream of winning a DSF raffle had finally come true.
"I was watching TV with the Arab couple that I take care of. They treat me like their daughter and were overjoyed to see my name on the screen.
They sent me off to Nasiruddin's house to tell him to not switch his phone off because he was going to get a call with more details about the win," said Liza who rushed to Nasiruddin to share the life changing news, after she heard her name on the TV.
"Liza got the information about the win much before I did. She saw it on TV and then arrived at my place to share the news with me. I did not believe her at first. I thought she was lying at first. Half an hour later, I got a call from the authorities with the news that had already reached my ears through the winner herself," said Nasiruddin.
"I am very thankful to God for this win. All the five years that I participated, I kept my faith strong and was confident that I will get lucky at least once. And finally, this year, my dream has come true. I am delighted," added Liza.
Liza takes care of an elderly Sharjah-based Arab couple, who has been very generous to the Bangladeshi national ever since she stepped into their house to help them with cooking, cleaning and other household chores. They're equally excited and extremely happy for her.
"They treat me like family and even after the win, I am not going to stop working for them because they love me a lot and I do too," said Liza.
Speaking about what she wants to do with the grand prize, she said, "I have a son who runs a small tea shop. I want to help him expand his business."
Shoppers can enter the Infiniti Mega Raffle by purchasing a ticket for Dh200 at Gold Souk, main shopping malls, selected Enoc and Eppco petrol stations and Global Village. The raffle offers everyone a daily chance to drive away with two Infiniti models QX60 and G25 along with a cash prize of Dh100,000.
Follow Emirates 24|7 on Google News.