Make-A-Wish fulfils wish of sick Filipino child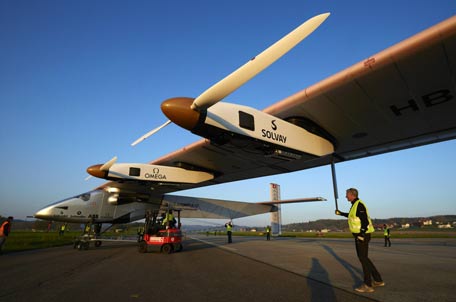 Make-A-Wish Foundation has fulfilled the wish of a 9-year-old Filipino child, Khalil, by presenting him a MacBook computer.

There was another surprise in store for the child when he was taken to see the first plane that flies without any fuel.

Hani al-Zubaidi, CEO of Make-A-Wish Foundation UAE, told Emirates News Agency (Wam) in a statement that the Foundation seeks to fulfil the wishes of children with critical and life-threatening health conditions, through cooperation with a number of agencies, institutions of government and private sector.

He added that the Foundation selects children at hospitals and then meets with relatives and the child to assess his wishes.

The co-founder of 'Solar Impulse 2' Andre Borschberg said that one of the main messages of the founders is to spread awareness about aviation among children, adding that during the meeting with the child, Khalil, he noticed that he knew a lot of things about aviation and aviation technology despite his health problems.

On their part, the relatives expressed their happiness about Khalil's wish being fulfilled, especially the chance to see the 'Solar Impulse 2' plane. They expressed their gratitude to the Foundation for its support to their son and all other kids.

The 'Solar Impulse 2' is the first aircraft that will fly around the world, powered by solar energy and not using even a drop of fuel.

Masdar is the co-host of the 'Solar Impulse 2' project within the framework of its commitment to invest and develop renewable energy and clean technology sector, both locally and internationally.

Abu Dhabi boasts of being the choice to host the starting and ending points of the 'Solar Impulse 2' aircraft journey, which will kick off in March.
Follow Emirates 24|7 on Google News.