Maldives island for sale in Dubai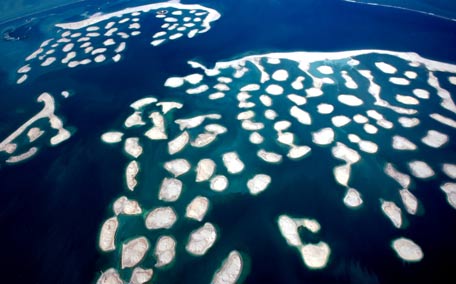 The island of Maldives on The World, Dubai, is up for sale.
A listing on dubizzle.com, a classified website, reveals the size of the island to be 294,617 square feet, while the selling price being Dh48 million.
Twenty villas can be built on the island, the listing states.
An oyster-shaped islet, part of the Asia Island, has once again been listed on the classified portal.

The island is now priced at Dh110 million.
The approved design for the island boasts of a built-up area of 47,048 square metres and a total land area of 36,661 square metres, comprising villas and apartments and 42-room boutique hotel.
"A spherical form of our hotel is made of steel construction and it's plated by black perforated sheet metal.
"Thus made a one-way vision effect. From the interior, you can see a beautiful vision of the island but from outside, you only see a black sphere, which is the dominant one in our concept," states the information placed in the artist impression of the proposed project.

Down payment to the owner is Dh30 million and the remaining Dh80 million has to be paid to Nakheel, the master developer, the listing states.
Last month, Emirates 24|7 reported that Kleindienst Group, the developer of The Heart of Europe, is starting construction on the project, which will have "snow and rain-lined streets".

The World project is nine-kilometres wide and seven kilometres long.
It covers an area of 931 hectares and will add 232km to Dubai's natural 67km of beachfront.
The islands range from 150,000 to 450,000 square feet in size.
According to Nakheel's website, The World has five different types of island community: Estate Islands, Mid Density, High Density, Commercial and Transportation, and Resort Islands.
The islands were initially sold by invitation only and were priced in the range of $20 million (Dh73.4m) to $50 million.
Follow Emirates 24|7 on Google News.