Man attempting to stop fight, stabbed to death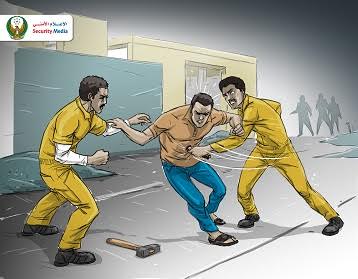 A Nepalese truck driver died of wounds inflicted by stabbing with a sharp knife, after attempting to break up a fight that broke out between two of his Nepalese colleagues over dinner preparation. The dispute took place at a labor accommodation in the Western Region in Abu Dhabi.

Brigadier Ojail Ali Al Junaibi, Director of the Western Region Police Directorate at the Abu Dhabi Police, said that the directorate managed to arrest the suspect 35 minutes after receiving notification. "The directorate also seized the long-blade kitchen knife used in the crime, which the offender had concealed in the air conditioning unit," he said.

Elaborating on the details of the crime, Brigadier Al Junaibi said that the Zayed City Police Station received notification from the Operations Room about a stabbing case at a labor accommodation in the Habshan area in Madinat Zayed. The Police and ambulance teams were immediately dispatched to the crime scene where they began their proceedings.

"Upon arriving to the scene, police and ambulance teams found a man dead in a pool of blood. Initial inspection indicated foul play and showed that the victim was stabbed three times using a long-bladed kitchen knife," noted Director of the Western Region Police Directorate.

Additionally, Brigadier Al Junaibi said that the offender, identified as B.B, 40, who was still at the scene, attempted to escape from police officials before being apprehended.

In conclusion, Brigadier Al Junaibi noted that: "Based on the facts and interrogations, the suspect had stabbed the victim (R.B, 45), who got in his way as he tried to beat his colleague (D.B, 39) with a hammer, following a dispute over dinner preparations.
Follow Emirates 24|7 on Google News.