MBRF launches Nobel Exhibition 2018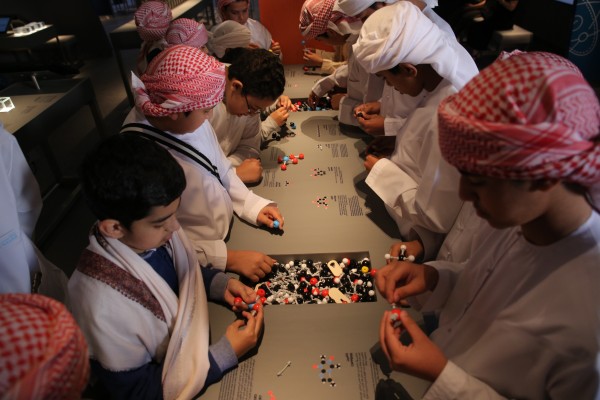 The Mohammed Bin Rashid Al Maktoum Knowledge Foundation (MBRF) on Sunday officially launched the fourth annual Nobel Exhibition, organised in collaboration with the Nobel Foundation in Dubai's City Walk until March 3, 2018.
Held under the patronage of H.H. Sheikh Ahmed bin Mohammed bin Rashid Al Maktoum, Chairman of MBRF, the 2018 Exhibition bears the theme "Nobel Prize in Chemistry – Connecting Elements".
This year, the event highlights an important category of the Nobel Prize – chemistry – focusing on the achievements of Arab and Muslim chemists, who played a key role in establishing the foundations of this science.
The announcement was made during a press conference which was attended by Jamal bin Huwaireb, MBRF's CEO, at the Exhibition site, along with Dr. Olov Amelin, Director of the Nobel Museum in Sweden, and a number of representatives from local and international media.
"The Nobel Exhibition amplifies the Mohammed bin Rashid Al Maktoum Knowledge Foundation's role as a leader in the knowledge industry, bringing ambitious initiatives to the table – initiatives that support the creation and dissemination of knowledge. This, in turn, reinforces the UAE's strategy to build knowledge-driven, future-ready sustainable societies," said bin Huwaireb.
"The exhibition reaffirms the strong strategic partnership the Foundation has forged with the prestigious, world-class Nobel Foundation," he added. "This partnership allows us to offer, every year, a standout knowledge event to science enthusiasts, as well as the wider general public. The annual Exhibition encourages the youth to embrace innovation and creativity and become active players in the development of their societies and a part of the knowledge industry."
The MBRF CEO went on to note that this year's event sheds light on the discoveries made by Nobel Prize laureates in chemistry, including Arab and Muslim scientists such as Egyptian chemist Ahmed Zewail, underlining the role these discoveries play in improving people's lives.
Dr. Amelin, directly quoted Zewail, whom he lauded as a passionate and accomplished femtochemist – as he addressed the audience, saying, "'I discovered how science is truly a universal language, one that forges new connections among individuals and opens the mind to ideas that go far beyond the classroom.' These words are Ahmed Zewail's. I think he should have been proud of this exhibition and the way MBRF is promoting science and raising science literacy."
"The theme of this year's exhibition, 'The Nobel Prize in Chemistry – Connecting Elements' underlines the role chemistry can play in addressing the problems humanity faces today, such as climate change or how to cure cancer," Dr. Amelin explained, applauding the UAE's commitment to pushing the limits and encouraging young people to engage in the sciences and strive for knowledge.
The Nobel Exhibition 2018 is made up of five sections, showcasing the achievements of Nobel laureates in five different areas of chemistry, namely: Chemistry of Life, Chemical Reactions, Elements, Molecules, and Chemistry Changing the World.
Follow Emirates 24|7 on Google News.