Media can help in the fight against terrorism, Arab League chief tells Arab Media Forum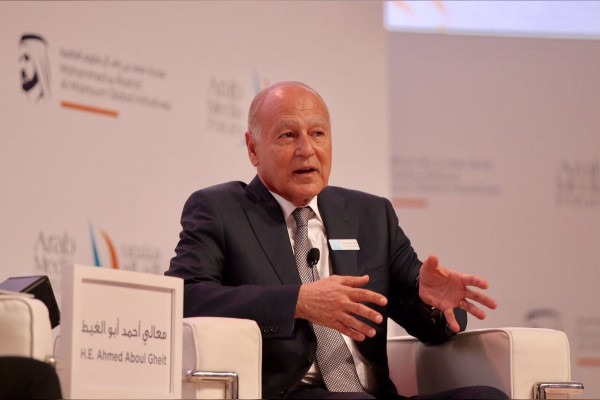 Media can help countries of the region to confront many threats and risks the region is facing, including terrorism, which requires concerted efforts to root out, affirmed Arab League Secretary-General Ahmed Aboul Gheit in his keynote address at the Arab Media Forum in Dubai on Monday.
''To eradicate terrorism, we need a balanced social, intellectual and religious rhetoric to stand against the misleading propaganda that targets young generations,'' Gheit said.
''The Arab region is experiencing the most challenging time in its history,'' he stated.
He spoke about the Arab League's mission in the present Arab reality and its aspired role to close Arab ranks. He also outlined the Arab approach towards current regional and global hot issues and the civil dialogue with the world.
The Arab League chief warned against ill intentions of the Arab neighbours who wanted to destroy Arabs and weaken their pan-Arab body.
''Arabs should never give in to depression,'' he stressed.
Answering a question about how to defeat Daesh terrorist organisation, he said the battle requires more than military intervention.
''We need a large-scale intervention on multiple fronts before we use the gun,'' he added.
The two-day AMF is running under the patronage of Vice President and Prime Minister of the UAE and Ruler of Dubai His Highness Sheikh Mohammed bin Rashid Al Maktoum.
Themed "Civil Dialogue", the 16th edition of AMF is to host prominent media leaders, scholars, writers and media experts, who will gather under the umbrella of AMF to discuss the role of media in promoting civil dialogue through highlighting the important elements of peaceful coexistence, tolerance, mutual respect as well as condemning any display of racism, hatred and prejudice.
This edition will also unveil the "Arab image in the West" report, a survey on the American opinion of Arabs, conducted in partnership between Dubai Press Club, Arab News daily and YouGov. The two-day-forum agenda will include plenty of discussions and an array of analytical topics that top the interests of the audience.
The opening session was attended by Sheikh Ahmed bin Mohammed bin Rashid Al Maktoum, Chairman of Mohammed bin Rashid Al Maktoum Knowledge Foundation, Sheikh Mansour bin Mohammed bin Rashid Al Maktoum, Sheikha Lubna bint Khalid Al Qasimi, Minister of State for Tolerance, Mohammad bin Abdullah Al Gergawi, Minister of Cabinet Affairs and The Future, Dr. Sultan bin Ahmad Sultan Al Jaber, Minister of State and Chairman of National Media Council, Noura bint Mohammed Al Kaabi, Minister of State for Federal National Council Affairs, senior government officials and a crowd of Emirati, Arab and international media persons.
Follow Emirates 24|7 on Google News.