Meet DSF winners who walked away with car plus Dh200K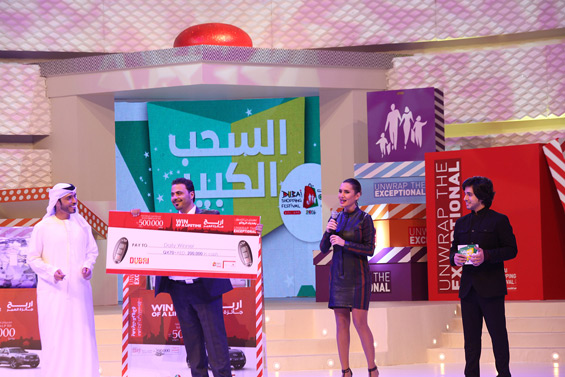 It's the month that celebrates shopping, entertainment and great rewards. Apart from the great bargains and spectacular shows, shoppers also had a go at the mega raffles that could win them Dh200,000 in cash and the Infiniti QX70.
Saudi national Yakoot Ayesh never imagined that his first family trip for DSF would win him the raffle. "I came on holiday to Dubai on January 2 with my wife and kids, aged 5 and 7. As soon as we reached the hotel, I saw the advertisement for the raffles and decided to buy.
"It's when we went back to Saudi that I got a call from the UAE telling me I had won the raffle. Honestly, I was quite suspicious. I thought it might be a prank, but my nephew called me and told me he saw my name come up during the announcement on TV.
"Even though I've been to Dubai a lot in the past, this was my first DSF experience. It has been an experience of a lifetime that has allowed me to make a lifelong dream come true - I will use the money to buy a house in Saudi Arabia."
Yasir Abdul Wahab, a 47-year-old Iraqi architect, also got lucky at the raffle.
"For 10 years I've been consistently buying DSF raffle tickets. Sometimes I would buy one ticket, while other times I would purchase three or four. Once I even bought 10 tickets. I always felt I had a chance, which is why I used to buy every year," said Yaser.
"This time, I bought three tickets. Usually I watch the draw on the telly, but on January 9 I had to skip it because I was too busy. So I had no idea I had won till I got a call from the organisers.
"I'm still shocked and surprised but I just remind myself that this is Dubai so it was bound to happen at some point. I have been unable to start a company due to a lack of capital. I plan on using this money to really change my life and begin my own company."
Mohammed Khaled Shaaban, a Jordanian national living in Dubai, was super excited when his first attempt won him big.
"I have won some pretty great prizes in the past in online competitions or radio call-in shows but this was completely different. At first I thought it was some sort of prank. It's slowly sinking in, I still have no idea what I will spend the money on but I am definitely looking forward to doing something great with it."
Follow Emirates 24|7 on Google News.