Meet the man who won DDF $1m raffle – twice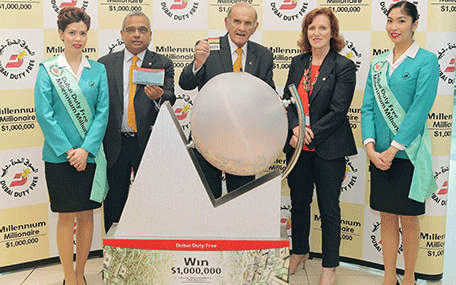 Some people are lucky enough to win a million dollar in their lifetime, and others are fortunate enough to win that much money twice.
Hussain Aldubais, a Saudi businessman, pulled off quite a feat by winning the Dubai Duty Free Millennium Millionaire promotion, exactly one year after his first $1 million win in February 2015.
Aldubais, a Saudi national living in Dammam, received the second surprise phone call from Dubai Duty Free informing him that his ticket No.1171 in Series 211 was drawn earlier this morning in Concourse C, Dubai International Airport.
Becoming a big winner overnight is now old hat for the Saudi national, who became the sixth person to win $1 Million dollar more than once in Dubai Duty Free's history.
Commenting on his second win, Aldubais said: "It was a pleasant shock to receive a second once-in-a-lifetime phone call from Dubai Duty Free. Needless to say, how thrilled I am to win the prize once again, thank you Dubai Duty Free."
Meanwhile, Dubai Duty Free also conducted the Finest Surprise draw directly after the Millennium Millionaire and announced the winner of a Ducati Diavel Dark (Dark Stealth) motorbike.
Nuhoor Mohamed Naseen, a Sri Lankan national living in Sharjah, holder of the lucky ticket no.0912 in Series 275 is not available for immediate comments and the surprise still awaits him.
The Millennium Millionaire and Finest Surprise draw were conducted by Dubai Duty Free senior officials Colm McLoughlin, Executive Vice Chairman; Ramesh Cidambi, Senior Vice President – IT & Logistics; and Sinead El Sibai, Vice President – Marketing.
Follow Emirates 24|7 on Google News.