Meraas set to attract adventure-seekers and eco-tourists to Hatta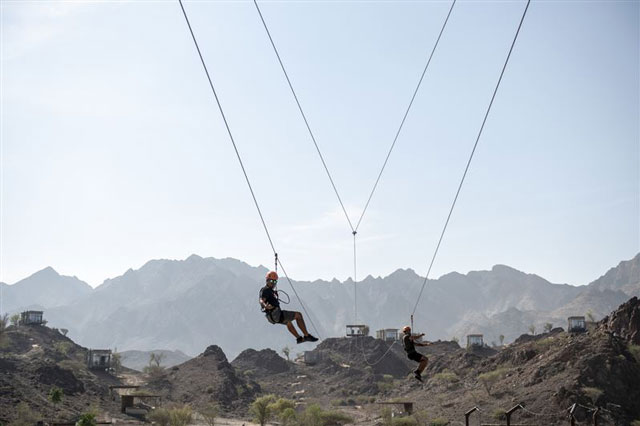 The undertaking will offer global adventure experiences at this unique destination, inviting visitors from UAE and beyond to rediscover Hatta's serene and breath-taking landscape, its mountains and water bodies.
Meraas will activate the Hatta Wadi Hub featuring a coaching centre and high-energy activities such as mountain biking and Hatta Drop-in, Asia's first water jump park and an idyllic glamping experience at the Hatta Damani Lodges.
Visitors will also have the opportunity to stay at the Hatta Sedr Trailers which offer visitors a first-of-its-kind experience in the region through vintage trailers repurposed as boutique hospitality experiences, in addition to the other attractions and activities such as the Hatta Zorbing.
His Excellency Abdulla Al Habbai, Group Chairman of Meraas, said: "Following the directives of His Highness Sheikh Mohammed bin Rashid Al Maktoum, Vice President and Prime Minister of the UAE and Ruler of Dubai and in line with the Hatta Comprehensive Development, launched As a creator of new destinations, Meraas is redeveloping the area in an effort to offer visitors a glimpse at Hatta's authentic Emirati culture and rustic landscape, which are a source of pride for the nation.
Our projects will establish the position of Hatta as National Park and a leading eco-tourism destination, through offering a comprehensive global experience while showcasing and protecting the natural environment."

Prominent adventure attractions : Hatta Wadi Hub
A perfect escape for the adventure and activity seeking visitors, Hatta Wadi Hub offers a wide range of experiences to suit every taste.
The activities on offer include both paid and free options that range from mountain bike (MTB) coaching and rentals, to downhill mountain biking, downhill carting, a human sling shot, axe throwing, archery, freefall jumps, Dr Rock station, adventure rope courses, rope bridge, wall climbing, kids and adult's trampolines, as well as twin and kids zip lines, among others.
Hatta Wadi Hub also debuts Hatta Drop-in, Asia's first water jump park, with a crazy jump, crazy slide, drop-in donuts and drop-in tracks.
Visitors can also book for a kayaking or a hiking experience at Hatta Wadi Hub.

Hatta Damani Lodges & Hatta Sedr Trailers
Holidaymakers looking to leave the city behind and retreat to a calm, serene setting need not look further than the Hatta Damani Lodges and Hatta Sedr Trailers.
Nestled between the picturesque mountains of Hatta, both properties offer incredible ecotourism experiences appealing to the avid nature-lover.
Hatta Damani Lodges houses three different types of cabins to offer an exclusive idyllic mountain lodge experience enhanced by Hatta's rich and diverse ecosystem that spans across extensive mountain and biking trails.
Hatta Damani Lodges are at close to Hatta Wadi Hub and to a world of adventures and activities.
Visitors can wind down from the day-long adrenaline rush around a bonfire at the Hatta Wadi Hub or enjoy scrumptious barbeques at cosy purpose-built huts.
On the other hand, Hatta Sedr Trailers brings the first-ever trailer hotel concept to the region, featuring trailers transformed into hospitality units each with its own terrace.
Guests at Hatta Sedr Trailers can access a common area equipped with a fire pit and barbeque facilities, while enjoying an uninterrupted view of the charming banks of Hatta Dam.
Overnight stays are also available at Hatta Campsite, a dedicated camp site, where tents can be set up to offer a curated indoors-meets-outdoors experience.
Follow Emirates 24|7 on Google News.