Mercury at 40+ and no cooling at Dubai landmark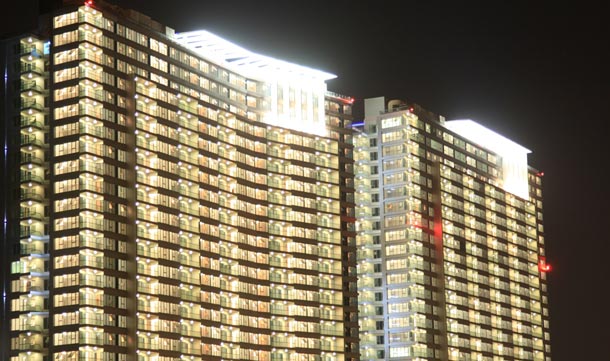 It's is 40+ degrees in Dubai and the 6-tower landmark on the Dubai-Al Ain highway is having air-conditioning issues.

As the temperatures rise so do tempers of the owners and tenants of the iconic Skycourts Towers in Dubailand - they are already up in arms over the high cooling and capacity charges - and now they have to swelter as the air-conditioning seems to have stopped working satisfactorily.

The Owners' Association Management has set up a notice in the elevators which admits to a "cooling issue" over the past two days.

"We regret to inform that there has been a cooling issue in the whole Skycourts buildings for last two days. The reason for the disturbance in the cooling service was attributable to a technical issue in the Empower facility... therefore could not provide the required standard cooling temperature to Skycourts buildings," the notice said.

"We are in direct contact with Empower since the issue [was] identified and they have assured that their teams are currently working round the clock to resolve it," the Owners' Association Management said adding that it "regrets any inconvenience caused to all of us as residents in Skycourts."

It urged owners and residents to liaise directly with Empower if needed. "In case you wish to follow up directly with Empower, their contacts are as follows" the notice said giving the contact details.

When Emirates 24|7 tried to call the landline number, it was on voice mail. Until this time, no one from the number called back.

As, a resident asked: "Why [the] AC is not working in my apartment? I'm paying my bill as well. Worst service from Skycourts.... Bad smell comes as well but still nothing has happened from last 4 months."

Commenting on the Skycourts Group website, SA said, "My tenant is also complaining about insufficient cooling. Got the AC serviced today. Apparantly the chilled water supply temperature is 22 degree. Which is not capable of providing proper cooling inside."

Another resident, NN, reacting to the notice said: "Couple of days? It not cooling for the last 10 days! I'm waiting for the day we finish the contract and move away."

WA pointed out that "It's not the filter or servicing. An engineer friend had warned me that the chiller system in Skycourts will not be able to meet the cooling demand in summer. Its capacity is just too low."

One of the residents pointed out that the corridors are cooler than the homes to which another quipped: "Let's all shift to the corridors... or put up tents next to the swimming pool :)."
Follow Emirates 24|7 on Google News.