Minister of Infrastructure Development launches next stage of Al Badiya Bridge Project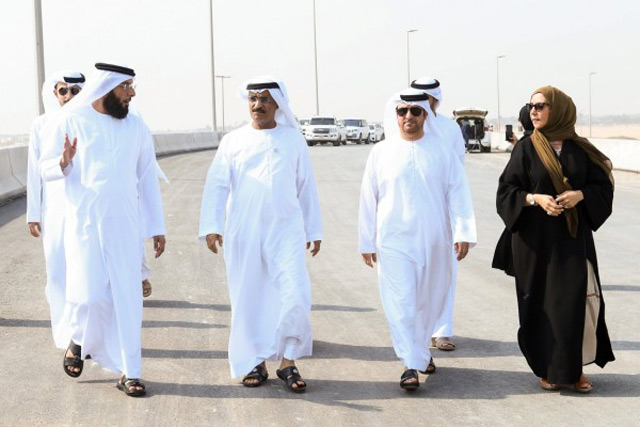 During his tour of the Al Badiya Bridge Project, Dr. Abdullah bin Mohammed Belhaif Al Nuaimi, Minister of Infrastructure Development, launched the project's next stage that aims to improve traffic flow, which includes the construction of slip roads at the Al Badiya intersection for those coming from Dubai and heading to the East Coast, as well as those coming from Meleiha and heading to Ras al-Khaimah, and those coming from Ras al-Khaimah and heading to Sharjah, and those coming from Sharjah and heading to Dubai.
Al Nuaimi stressed that, as per the directives of the wise leadership to undertake the required measures to improve traffic and achieve community happiness, the ministry is planning to complete the project over several phases, in preparation for its trial launch before the start of the 2018-2019 school year.
Al Nuaimi also inaugurated the enlargement of the Emirates Road to Ras al-Khaimah from three to six lanes, which will begin at the Al Badiya intersection and end at the Bridge 7 intersection on Al Dhaid Road.
He added that the project is among the key projects launched by the ministry, and includes intersections, tunnels and bridges while noting that the ministry is keen to achieve smooth traffic movement during all stages of the project, which is a major road that links the country's northern regions to Dubai.
He further added that the launch of the project is part of the country's overall efforts to develop its road and bridge networks, cope with the growing level of traffic, and improve transportation movement.
The ministry, in cooperation with its local government partners, has taken all the necessary measures to support the country's directives to achieve the happiness of the community and roads users, which is one of its key goals of since the launch of the project, Al Nuaimi stressed.
The project will serve the country's overall development and trade, will link all its regions, improve the roads system, and reinforce the UAE's international stature, he said in conclusion.
Follow Emirates 24|7 on Google News.