MiniYou: Where to get your 3D mini statues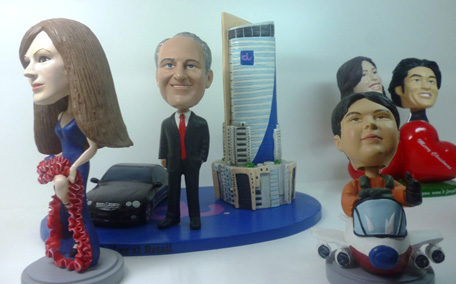 Posing for a colourful photograph during a birthday celebration or wedding anniversary is passé.
It is now time for your handcrafted miniature statues or 3-D characters to be moulded. And you don't have to be a celebrity or movie star to get one – and it won't break your bank to get one either.
This Is Me (TIM) is the latest category of mini statues being culled out for you by a Dubai-based 3D modelling company, Precise Middle East.
In the first six months after introducing the product, there has been a tremendous response from not only image-conscious celebrities and the rich and famous, but even from the common folk who place orders for their mini statues.
The company that introduced laser engraved 2D and 3D crystal imaging in the UAE market has now introduced MiniYou. The company says that each mini statue is hand-painted, paying attention to minute details and that there is a growing demand for the MiniYous.
Your hair, facial expression and colouring will be exactly replicated in the mini statue, which will be one tenth of your original size.
Even a tattoo on your body can be replicated in the MinYou Statues, said company officials.
Several members of a sports team like hockey, cricket, football or baseball can have their mini statues made or the same individual's multiple statues can be mass produced for special occasions.
The statue heads are normally between 7and 8 inches, all but larger miniatures ranging from a foot all the way up to a life size can be made, depending on the requirement.
Many tourists and passengers passing through the Dubai Duty Free have had their miniatures made through Precise Middle East. Visitors to the Atlantis Hotel are also enthused by the MiniYou statues.
Lothar Hoffman, Managing Director of the Dubai Investment Park-based Precise Middle East Company, said: "We have introduced TIM as an entirely new and unique product in the market. TIM, this is me, is just a replica of an individual in a proportionately smaller size and the three dimensional statue with the real life features of the person, will be a nice piece of architecture to preserve.
"We are getting a number of orders from individuals who want to have their mini statues made for special occasions like birthdays, weddings, wedding anniversary, graduation ceremony or an engagement.
Earlier, people used to take their photographs and preserve it. Now they can make a mini statue, which will be one-tenth of their actual size and keep it for life," said Lothar.
"Before making a mini statue of an individual, he or she is photographed in three different poses, so that the artist who makes the statue gets a clear three dimensional view. After placing an order, a preview of the mini statue is provided to the customer through the net. Once he is satisfied with it, the final statue is made and delivered."
The price for a normal MiniYou is Dh500 and for bigger sizes or statues of couples are charged correspondingly. "Many companies have placed orders for mini statues on special occasions like giving special awards. Sports teams are also placing orders for mini statues to get their miniature structures to celebrate special occasions," he said.
Price for mini statues varies from $110 per smaller one to $177 for a bigger size statue. Most of the orders come from the Dubai Duty Free Shop, the Mall of Emirates, and Deira City Centre, he said. Lothar maintains it takes at least three weeks to deliver a MiniYou statue, as the sculptor needs take time to mould the structure and meticulously create facial expressions.
The statues are made of poly-resin- mixture of oxylite and polystone (alabastrite). Though a stone-based material, poly-resin is quite flexible and can be easily molded, and yet it is stronger than ceramic once baked! The fine details that need to be depicted in a MiniYou head require a material like poly-resin.
"If you drop the MiniYou statue, it can break. Otherwise, the statue will last long," Lothar added.
Follow Emirates 24|7 on Google News.