MoCCAE bans imports of produce from Kerala, live animals from South Africa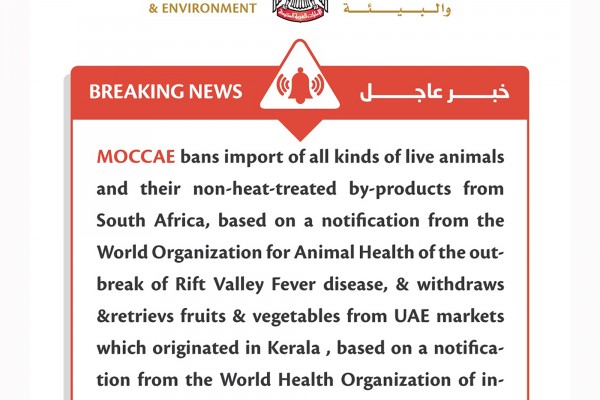 The Ministry of Climate Change and Environment, MoCCAE, has banned the imports of fruits and vegetables from Kerala, India and animal products from South Africa.
According to a press statement, all live animals - including sheep, goats, cattle, buffalos, camels, gazelles - and their non-heat-treated by-products from the Letsemeng province in South Africa have been banned.
The Ministry says that these measures reiterate its keenness in achieving its strategic objectives to ensure healthy and safe food for consumers, enhance biosecurity levels, and eliminating pathogens before they enter the country.
The first decision came based on the information received and published by the World Health Organisation, WHO, on the registration of a Nipah virus, NiV, outbreak in Kerala, India. Preliminary information indicates that the primary host of the disease is the fruit bat, where the virus is transmitted through secretions from the bat to the fruit that it feeds on or touches. Mangoes, dates and bananas are the bat's most preferred fruit. There have been cases of transmission of the disease among humans and between humans and animals as well.
Based on Federal Law No. 10 of 2015 on food safety and through its management of the fast food alert system, the ministry banned the imports of fresh vegetables and fruits from Kerala. It also issued a circular to the concerned local authorities including the Abu Dhabi Food Control Authority and the municipalities of Dubai, Sharjah, Ajman, Umm Al Qaiwain, Ras al-Khaimah and Fujairah to prevent the entry of all kinds of fresh vegetables and fruits from Kerala.
The Ministry has called upon the public to take the following precautionary measures when they purchase and eat fresh fruit; to make sure that the fruits are ripe, fresh and non-withered, wet, colour-changed or overripe, also before eating fruit, make sure that there are no visible defects on them, such as pests infections, cuts, dirt or deformities.
The measures also included to make sure that the fruits are free from any strange smell or taste, and that packaging should not contain any damaged fruit. The Ministry also advised consumers to wash fresh vegetables and fruits well before eating them, and that juices should be consumed only when their sources are confirmed.
The second decision to ban livestock from South Africa was based on a notification from the World Organisation for Animal Health of the outbreak of Rift Valley Fever disease. Accordingly, MOCCAE has banned the import of live animals and their non-heat-treated by-products from the infected Letsemeng province. Thermally treated products from all other parts of South Africa have been cleared for import, the Ministry explained.
Follow Emirates 24|7 on Google News.