MOCCAE launches SENIAR navigation app for UAE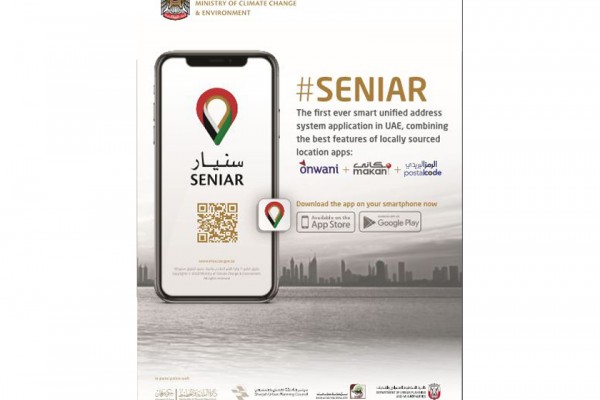 The Ministry of Climate Change and Environment, MOCCAE, has made available the SENIAR smart navigation application on iOS App Store and Google Play Store. The state-of-the-art app provides motorists with easy-to-follow, accurate directions to their destinations across the UAE, cutting down travel time and distance and improving their daily commute.
The smart app was approved at the annual meeting of the UAE Government last September, and was enlisted in the third batch of government accelerators. The team behind the app, combining MoCCAE, the Department of Urban Planning and Municipalities in Abu Dhabi, Dubai Municipality and Sharjah Urban Planning Council, took on the challenge to achieve 2,000 downloads in the introductory phase.
Providing a closer look at the UAE-wide navigation app, Dr. Thani bin Ahmed Al-Zeyoudi, Minister of Climate Change and Environment, said, "SENIAR is a one-stop source of consolidated navigation data across the UAE, combining the best features of local navigation systems: Onwani, Makani and Postal Code. It is in line with the vision of the UAE's wise leadership to promote the concept of Smart Cities in the country. It will be of great value to both residents and visitors, offering them ample information in making their journey on the road smoother. It will also enhance the experience of tourists in the country by helping them get around the cities of the UAE and find various attractions and destinations with ease."
The smart application guides users through the best routes possible and ensures they reach their destinations without hurdles. In addition to cutting down travel time, the app will reduce traffic jams and slowdowns.
Follow Emirates 24|7 on Google News.