MoCCAE records 99.9% Safi, Sheri fishing compliance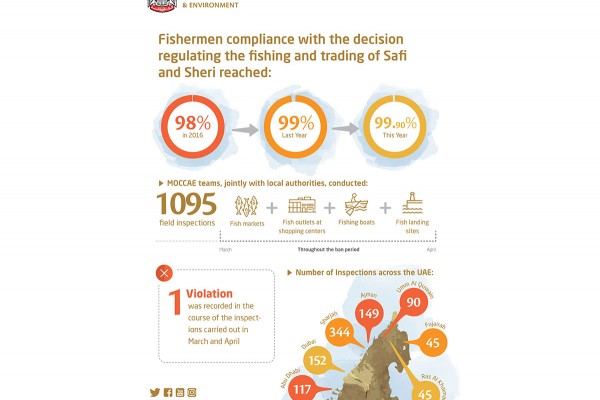 The Ministry of Climate Change and Environment, MoCCAE, has confirmed 99.9 percent compliance of fishermen with the Ministerial Decision No. 501 of 2015 on the regulation of fishing and trading of Arabian sheri (emperor fish) and safi (rabbitfish) during the breeding season, from 1st March to 30th April 2018.
Commenting on the announcement, Mohammed Al Zaabi, Environmental Compliance Director at MoCCAE, said, "The nation-wide awareness of the importance and benefits of regulating the fishing profession to sustain fisheries for the coming generations has improved significantly. This is evident in the overall compliance with the federal decision regulating the fishing and trading of Arabian safi and sheri, that reached 98 percent in 2016, 99 percent in 2017, and 99.9 percent in 2018."
Al Zaabi pointed out that the measures taken by the ministry in this regard contributed significantly to the successful implementation of the decision. He added that a number of awareness campaigns and workshops were carried out for concerned stakeholders to help them understand how such measures protect and develop fisheries and promote their sustainability.
"In addition to conducting awareness campaigns, we inspected 1,095 units – including major fish markets, fish outlets in shopping centres, fishing boats and landing sites during March and April. These inspections were carried out across the seven emirates: 117 in Abu Dhabi, 152 in Dubai, 344 in Sharjah, 45 in Umm Al Quwain, 90 in Ras al-Khaimah and 198 in Fujairah," Al Zaabi added.
Only one violation of the Ministerial Decree was detected throughout March and April. Such violations are penalised in accordance with the Cabinet Resolution No. 18 of 2012 regarding the application of administrative penalties on the violators of living aquatic resources and fisheries. First-time offenders receive a written warning, while a second violation is subject to a fine of AED2,000. For a third violation, the culprits have their fishing licenses suspended, and the offending stores are closed for one week, in coordination with concerned local authorities. In all cases, the fish caught is confiscated.
Al Zaabi praised local authorities for their role in implementing the ministerial decision, either by spreading awareness and its projected benefits or through monitoring the markets and outlets to ensure compliance with the decision.
He noted that the overfishing of certain species, particularly local fish species such safi and sheri, in their spawning season, is one of the main reasons for the decline of fish stock in the UAE. The Ministerial Decision No. 501 of 2015 regulating the fishing and trading of sheri and safi during the breeding season is an important step in protecting and sustaining the fish stocks to acceptable levels throughout the country.
Follow Emirates 24|7 on Google News.