MOCD issues more than 6,000 'Massarah' cards for senior citizens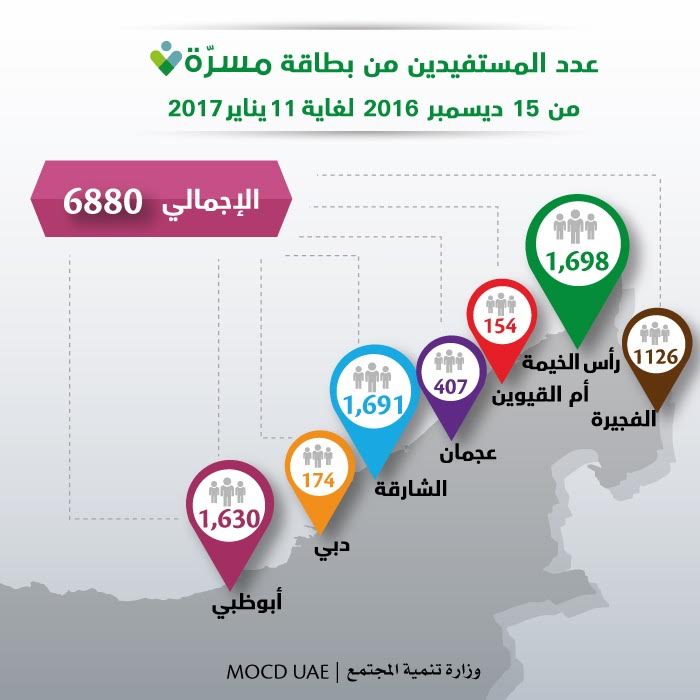 The Ministry of Community Development has issued more than 6,000 "Massarah" cards within one month since it began receiving applications in mid-December 2016, with 3,517 women and 3,363 men benefitting from the service.
The card aims to improve the services offered by the ministry to senior citizens in the UAE.
It provides a host of features and promotions for citizens over 60 years of age in collaboration with local and federal government entities, as well as a number of private companies.
The number of participating entities increased six-fold from just 10 companies in the first week of issuing the card to 60 companies.
Mona Al Markazi, Director of the Social Affairs Office in Ras Al Khaimah, said: "We have received a great many positive responses from beneficiaries of the 'Massarah' cards, as well as their children, seeing as the card facilitates so many services for this segment of society."
By issuing the card, the ministry seeks to establish an adequate environment for senior citizens to contribute to society.
Additionally, the ministry will be collaborating with a number of strategic partners to facilitate access to the ministry's services, and to raise awareness around the needs of this particular segment of society.
The Ministry will be continuing its efforts to develop Massarah Card services through cooperation with its partners as well as attract new partners from various sectors to enhance the level of services provided to care for the elderly.
The Ministry of Community Development has been receiving applications for the "Massarah" card in all 27 Social Affairs Offices in the UAE since mid-December of last year.
The ministry expressed its gratitude to all public and private institutions that played a part in supporting this initiative, reiterating its commitment to social responsibility and calling on all other organisations to play a part in the sustainable development of the UAE by providing support for senior citizens.
Follow Emirates 24|7 on Google News.