Mohamed bin Zayed receives Egypt's Foreign Minister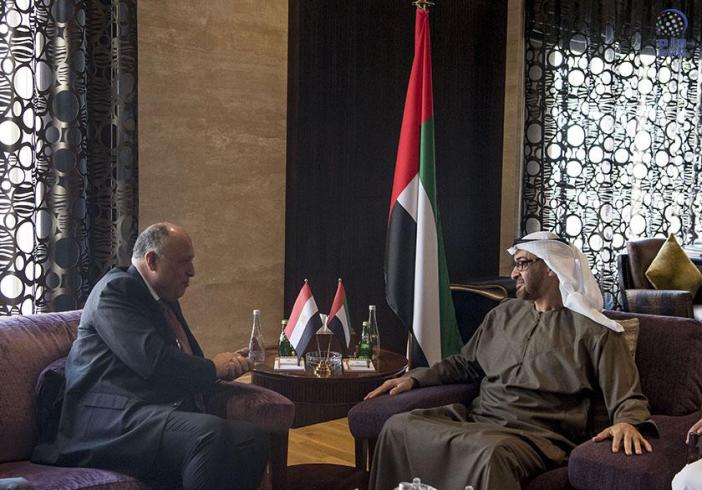 His Highness Sheikh Mohamed bin Zayed Al Nahyan, Crown Prince of Abu Dhabi and Deputy Supreme Commander of the UAE Armed Forces, received Sameh Shoukry, Foreign Minister of the Arab Republic of Egypt, who is currently visiting the country, at Qasr Al-Shati (Beach Palace) on Saturday.
Shoukry conveyed a verbal message from Egyptian President Abdel Fattah el-Sisi to President His Highness Sheikh Khalifa bin Zayed Al Nahyan.
His Highness Sheikh Mohamed welcomed the Egyptian Foreign Minister and discussed with him the ways to strengthen the close relations between the two Arab countries, to achieve their common interests.
During the meeting, which was attended by H.H. Sheikh Abdullah bin Zayed Al Nahyan, Minister of Foreign Affairs and International Co-operation, they also tackled the latest Arab developments, as well as the efforts being exerted to overcome the current crises in Libya, Syria, and Yemen.
Sheikh Mohamed bin Zayed and Egypt s Foreign Minister also reviewed the Arab position on the challenges facing the region, the importance of co-ordination and co-operation, as well as Arab solidarity in order to maintain the region s security and stability.
The Crown Prince of Abu Dhabi stressed the pivotal role of Egypt in the Arab world, and the Arab stance to overcome the violent crises facing the region.
"Egypt is the important strategic dimension to the Arab world, which is confident about its abilities, and rejects intervention in its affairs," he noted. Sheikh Mohamed bin Zayed commended the continuous communication and consultation between the two countries for the best interest of Arab nations.
The Egyptian Foreign Minister praised UAE's stances in support of Egypt and its people. He said the leadership, and people of Egypt appreciate the strong relations with the UAE, under the wise leadership of President His Highness Sheikh Khalifa bin Zayed Al Nahyan, and looking forward to furthering cooperation and cooperation to overcome the challenges facing the Arab world.
The meeting also dealt with a number of regional and international issues of common interest.
Mohammed Mubarak Al Mazrouei, Under-Secretary of Abu Dhabi Crown Prince's Court; Wael Mohamed Gad, Ambassador of Egypt to the UAE and an accompanying delegation to the Egyptian Foreign Minister were also present.
Follow Emirates 24|7 on Google News.