Mohammed bin Rashid Centre for Future Research opens at Oxford University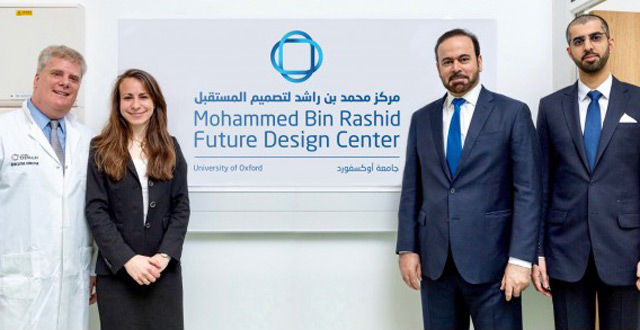 The Mohammed bin Rashid Centre for Future Research has opened at the Oxford University in the UK during a ceremony attended by Mohammad bin Abdullah Al Gergawi, Minister of Cabinet Affairs and the Future and Vice Chairman of the Board of Trustees for the Dubai Future Foundation.
Omar bin Sultan Al Olama, Minister of State for Artificial Intelligence and Member of the Board of Trustees for the Dubai Future Foundation, as well as a number of representatives of the University also attended the Centre's inauguration.
The Centre aims to incentivise future-oriented research and innovations in various scientific fields, such as 3D technology, physics, and other advanced sciences, in addition to the development of medicines and other future-oriented applications that present solutions to the challenges imposed by the exponential changes in today's world.
Al Gergawi said that the Mohammed bin Rashid Centre for Future Research reflects the vision and directives of His Highness Sheikh Mohammed bin Rashid Al Maktoum, the Vice President, Prime Minister and Ruler of Dubai, as well as his course of action to develop the future-oriented tools, applications, and solutions charged with predicting challenges and enabling humankind in their endeavor to build a better future.
"Incentivising scientific research and invention form the major transformational landmarks in human history in our constant strive to find answers to the questions of the future, and in developing the solutions to the challenges that we have always faced as we took another step in refining our quality of life," Al Gergawi added. He explained that the Centre will form a free and open space for scientists, researchers, innovators, and futurists to create solutions and innovations, as well as develop future-oriented practical tools and applications.
He went on to say that the Dubai Future Foundation will work on developing this experiment, build off of it, and expand its scope to include various vital future sectors. The Centre will aim to reinforce the UAE's position and leadership role in scientific activity and global progress in building a better future for upcoming generations.
The Centre's activities will focus on three main fields, including the provision of programs offered at the Dubai Future Academy on the Oxford Campus, and which includes future-related curricula; a laboratory for programming, research, and development; in addition to offering students the ability to participate in the "Fox Global" programme for future exchanges, connecting students and specialist academics to scientific resources and knowledge bases. This will contribute towards reinforcing the future of technical education in less privileged societies worldwide, as well as developing curricula and training for teachers, in addition to a number of other fields.
Follow Emirates 24|7 on Google News.