Mohammed bin Rashid honours Sierra Leone Minister with the Best Minister Award at a ceremony held at the WGS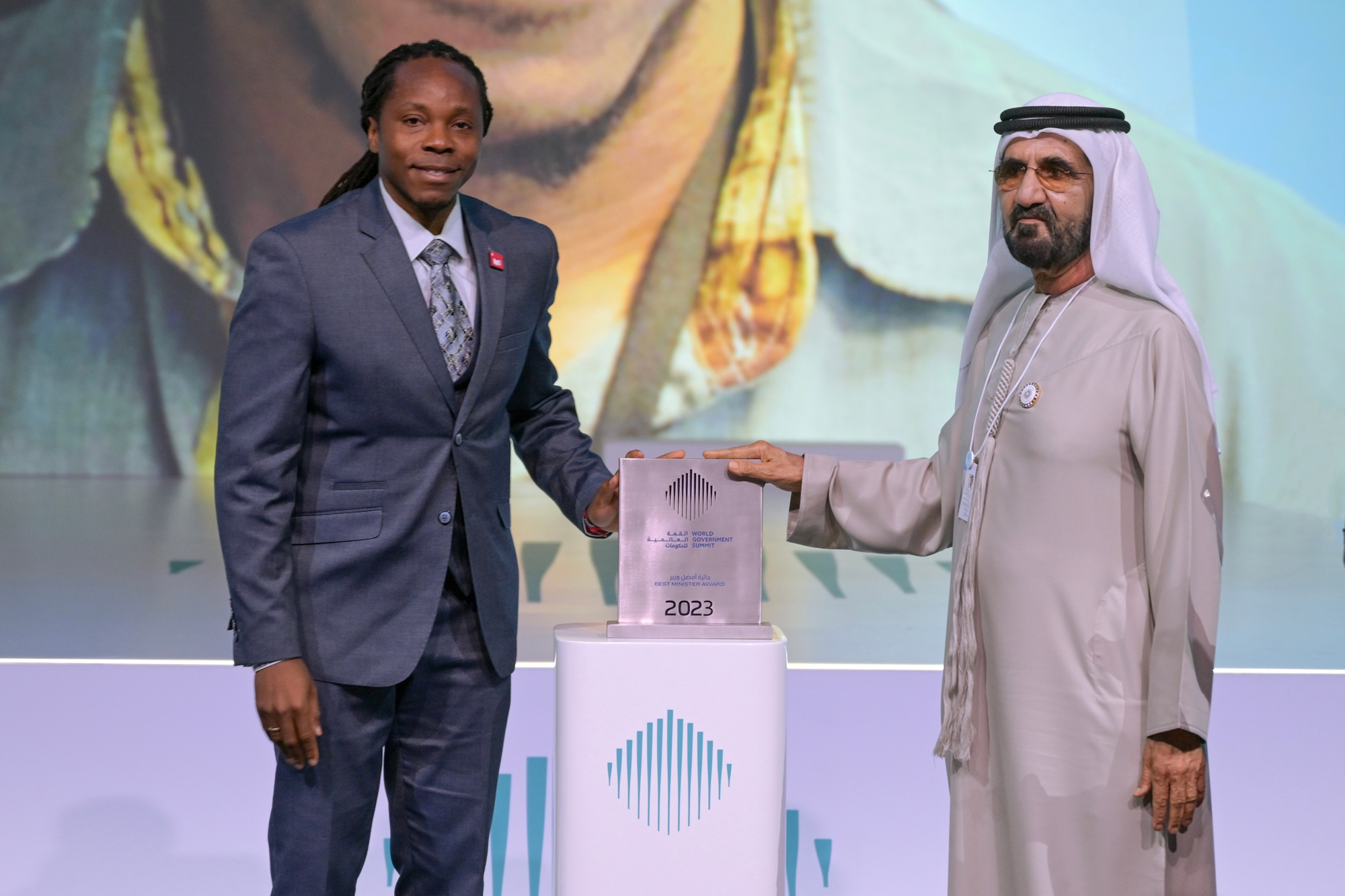 His Highness Sheikh Mohammed bin Rashid Al Maktoum, Vice President and Prime Minister of the UAE and Ruler of Dubai, in the presence of His Highness Sheikh Saud bin Saqr Al Qasimi, UAE Supreme Council Member and Ruler of Ras Al Khaimah, and His Highness Sheikh Hamdan bin Mohammed bin Rashid Al Maktoum, Crown Prince of Dubai, honoured Dr. David Moinina Sengeh, Minister of Basic and Senior Secondary Education and Chief Innovation Officer, Government of Sierra Leone, for winning the Best Minister Award 2023, at a ceremony held at the World Government Summit 2023.
His Highness Sheikh Mohammed bin Rashid said: "The Best Minister Award embodies the UAE's message on shaping the future and celebrating innovation in government."
His Highness highlighted the importance of the Best Minister Award saying it reflected the UAE's vision to promote talent and recognise success stories that have positively impacted communities across the world.
"The rapid changes the world is witnessing require governments to be well prepared and proactive in adopting advanced technologies".
The ceremony was also attended by His Excellency Macky Sall, President of Senegal, His Highness Sheikh Mohammed bin Saud bin Saqr Al Qasimi, Crown Prince of Ras Al Khaimah, and a number of dignitaries, ministers and senior officials.
Sierra Leone's first "Chief Innovation Officer", David Moinina Sengeh, was a former researcher at IBM Africa Research in Nairobi. Born and raised in Sierra Leone, he received his PhD from the MIT Media Lab for his research in bioelectronic mechanics that focused on the design of ergonomic prostheses and wearable interfaces.
Dr. Sengeh had developed a Covid-19 emergency plan to provide mental health services and educational support to more than 1,000 students of determination. The plan also provided e-learning technologies to more than 6,000 students in remote areas. Sengeh launched a $1.5 million fund that has grown into the $18 million Education Outcomes Fund, to reach 134,000 male and female students in 325 schools over the three years.
The Chief Innovation Officer of Sierra Leone designed and implemented an inclusive education project for people of determination and students from vulnerable groups, which enhanced the school infrastructure.
The Best Minister Award, organised by the World Government Summit Organisation in partnership with PricewaterhouseCoopers Middle East, recognises extraordinary excellence demonstrated by government ministers in the public sector and their design and implementation of successful, scalable and sustainable initiatives for socio-economic advancement of their citizens.
Since the launch of the Award in 2016, the World Government Summit has honoured five ministers from four continents; Azucena Arbeleche, Minister of Economy and Finance of Uruguay; Greg Hunt, Minister of the Environment in Australia, Awa Mari Coll Sek, Minister of Health of the Republic of Senegal; Sri Mulyani Indrawati, Minister of Finance in Indonesia; and Fayrouz Al-Din Fayrouz, Minister of Health of the Republic of Afghanistan.
The award is part of the WGS 2023, which runs until 15 February, with the participation of more than 10,000 leaders and government officials and heads of international organisations and global companies.
Follow Emirates 24|7 on Google News.