Mohammed bin Rashid honours winners of UAE Pioneers Award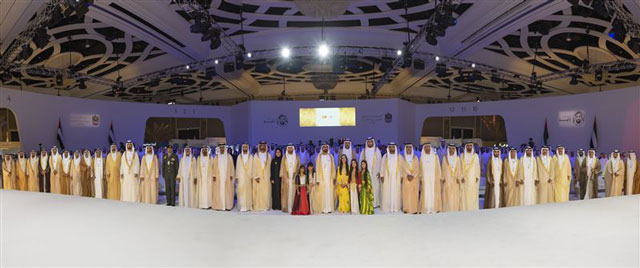 His Highness Sheikh Mohammed bin Rashid Al Maktoum, Vice-President and Prime Minister of the UAE and Ruler of Dubai, honoured the 31 achievements as part of the UAE Pioneers Award at a ceremony held in Abu Dhabi on Wednesday, following the conclusion of the Annual Government Meetings.
The UAE Pioneers ceremony coincides with UAE National Day celebrations.
"At the end of our annual meeting for National Day celebrations, we honored the UAE Pioneers national achievements that Sheikh Zayed will be proud of. Congratulations to all our winners and congratulations to Sheikh Zayed for all the hard work and efforts which will preserve his legacy for an eternity."
The meeting saw the attendance of H.H. Sheikh Hamdan bin Mohammed bin Rashid Al Maktoum, Crown Prince of Dubai; H.H. Sheikh Sultan bin Mohammed bin Sultan Al Qasimi, Crown Prince and Deputy Ruler of Sharjah; H.H. Sheikh Ammar bin Humaid Al Nuaimi, Crown Prince of Ajman; H.H. Sheikh Mohammed bin Hamad bin Mohammed Al Sharqi, Crown Prince of Fujairah; H.H. Sheikh Rashid bin Saud bin Rashid Al Mu'alla, Crown Prince of Umm Al Qaiwain, and H.H. Sheikh Mohammed bin Saud bin Saqr Al Qasimi, Crown Prince of Ras Al Khaimah, along with Sheikhs and senior officials and dignitaries.
Among the entities awarded for their excellence are the UAE Passport, Burj Khalifa, Sheikh Zayed Grand Mosque, KhalifaSat, Sheikh Zayed Book Award, Dubai Metro, Emirates airline, Arab Reading Challenge, Barakah Nuclear Energy Plant, Masdar city, and the National Service Programme.
Burj Khalifa was honoured for placing the UAE on the global map for being the highest skyscraper in the world.
The Sheikh Zayed Grand Mosque was honoured for its contribution to Islamic knowledge and for welcoming people of all religions and nationalities to its halls.
Dubai Metro was honoured for being one of the most important landmarks of the UAE. It helped to usher Dubai into one of the most technologically sophisticated smart cities in the world. It is also the longest metro in the region and the longest driverless metro in the world.
Dubai's flagship airline, Emirates, was also awarded for being the largest airline in the Middle East.
The Arab Reading Challenge was honoured for being the largest knowledge initiative in the Arab world, with nearly 20 million students participating in the event over the last three years.
Barakah Nuclear Energy Plant was named for being the first and largest peaceful nuclear energy plant of its kind in the world.
Masdar city was honoured for being a sustainable city that uses renewable energy, as well as harboring an international renowned research facility for climate change.
The UAE's National Service Programme was honoured for being the pride of the nation for all its youths.
Follow Emirates 24|7 on Google News.