Mohammed bin Rashid tours Arab Health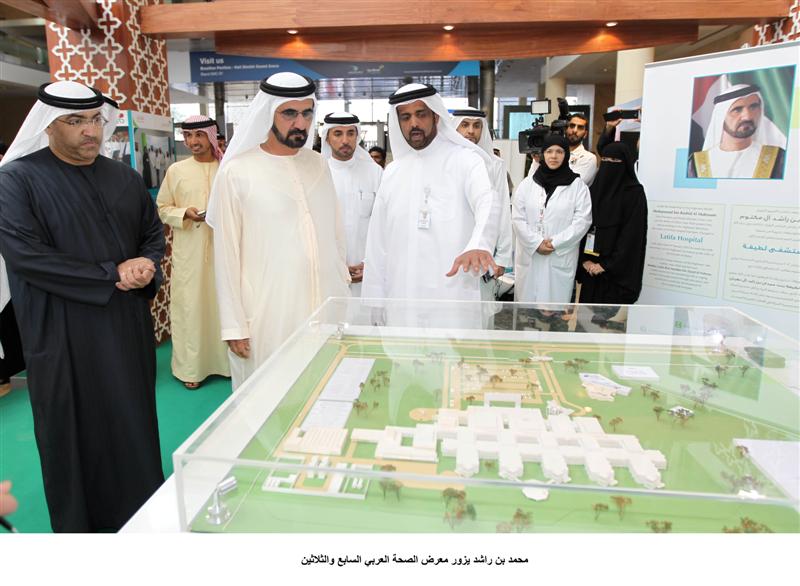 His Highness Sheikh Mohammed bin Rashid Al Maktoum, Vice-President and Prime Minister of the UAE and Ruler of Dubai, toured on Thursday the Arab Health Exhibition and Congress, the world's second largest gathering of medical and healthcare professionals, staged at Dubai International Convention and Exhibition Centre. Now in its 37th year, Arab Health provides an unrivalled platform for the world's leading manufacturers, wholesalers and distributors to meet the medical and scientific community from the Middle East and beyond.
The event, which concluded on Thursday, drew over 3,000 exhibitors from 75 countries and more than 65,000 healthcare professionals from across the world including China, South Korea, France, Turkey, US, UK, and Japan.
Sheikh Mohamed set out his tour with a stop at the Dubai Health Authority (DHA) stand where he viewed a model of the Latifa Hospital (Al Wasl previously).
Sheikh Mohammed toured other stands including those of Germany's Siemens Healthcare, Abu Dhabi Health Services Company (SEHA) and Samsung, and acquainted himself with the latest innovations and technologies in the medical and healthcare fields.
Sheikh Mohammed was also briefed on the Saudi medical investment at Dubai Healthcare City (DHCC) represented by Dr. Sulaiman Al-Habib Medical Group (HMG), one of the largest providers of comprehensive healthcare services in the Middle East, which is currently building a AED 460 million state-of-the-art multispecialty hospital.
The Vice-President expressed his satisfaction at the annual growth in both size and participation at the exhibition as well as visitors who rose in this year's edition to more than 80,000 from within the UAE and neighbouring countries Highlighting the importance of such conferences and congresses to the UAE, Sheikh Mohammed said they enable UAE professionals to get insights into the recent developments in the fields of medicine and medical research being conducted by internationally acclaimed scientists and specialists.
''We encourage such specialised exhibitions which serve mankind's development and protect health and safety of members of community as human being is the heart of the universe and the finest creature of Allah,'' he added.
Sheikh Mohammed was accompanied during his tour by Abdul Rahman Mohammed Al Owais, Minister of Culture, Youth and Community Development and acting Minister of Health, Qadhi Saeed Al Murooshid, Director-General of the DHA, and a number of top officials.
Mohammed bin Rashid visits Global Village
Vice President and Prime Minister of the UAE and Ruler of Dubai His Highness Sheikh Mohammed bin Rashid Al Maktoum took on Thursday a tour of the Global Village, the largest outdoor family entertainment venue in the region.
For more than an hour amidst cheering crowds, Sheikh Mohammed visited the pavilions of Yemen, Turkey, Kuwait, Iran, Morocco, Syria, Egypt, UAE, Saudi Arabia, India, Spain and Qatar. He also proceeded to the Khalifa Charity Foundation stand where local producing families display their products. He also spent some time at stands of young entrepreneurs who are supported by Mohammed Bin Rashid Establishment for Small and Medium Size Enterprises.
Sheikh Mohammed said he was pleased to see this Arab and international gathering on the UAE soil, saying such engagement of sisterly and friendly countries underscores the vital role of our country as a liaison point between the east and west and as a bridge of communication between world cultures and civilisations.
He commended the idea of creating the Global Village as an oasis bringing different peoples of the world to the UAE, the land of love, and human co-existence and tolerance.
Sheikh Mohammed concluded his tour by watching part of Faza Yola Dance and Meydan Competition.
For the past 15 years, Global Village has been providing cultural entertainment along with an international shopping experience to millions of visitors.
Abdul Rahman Mohammed Al Owais, Minister of Culture, Youth and Community Development and acting Minister of Health, and a group of senior officials accompanied Sheikh Mohammed during the tour.
Follow Emirates 24|7 on Google News.