Mohammed bin Zayed receives UN chief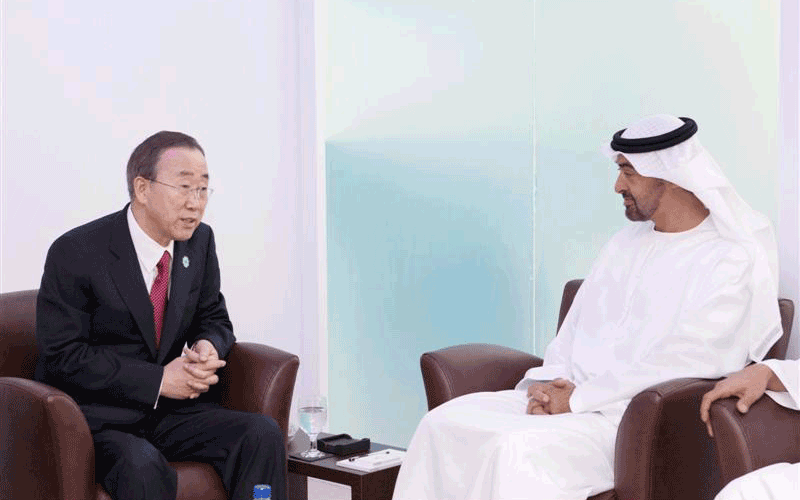 Gen. Sheikh Mohammed bin Zayed Al Nahyan, Crown Prince of Abu Dhabi and Deputy Supreme Commander of the UAE Armed Forces, welcomed today Ban Ki-Moon, Secretary-General of the United Nations, at Masdar stand at the parallel exhibition of the ongoing World Future Energy Summit.
Sheikh Mohammed welcomed the UN chief to the international event and lauded the UN agencies' role in spreading knowledge and awareness about uses and technologies of renewable and clean energy.
Sheikh Mohammed affirmed that the engagement of the UN Secretary General in the 4th World Future Energy Summit in Abu Dhabi underlines the attention and support lent by the largest international organisation to such world gatherings that have positive impact on the humanity at large.
"What we are seeing today in Masdar City is an extension of the far-sighted vision of the founding father, the late Sheikh Zayed bin Sultan Al Nahyan and the wise policy of President His Highness Sheikh Khalifa bin Zayed Al Nahyan which were drawn from our indigenous culture and values and originality of our heritage in preserving the environment and the optimum use of resources," he said.
"We should pursue our efforts with the same enthusiasm, determination and perseverance and have the same vision to address future challenges even under the scarcity or depletion of our resources from underground energy riches."
"To continue this path, we should focus on the quality of education to make our generations capable of giving and protecting gains with high sense of responsibility in pursuance of our wise leadership's aspirations for handling future challenges efficiently."
He added that communities today need a successful story to emulate especially when such an example comes from a Middle Eastern country.
This will prompt others to jump on the wagon sooner or later given the vital importance of energy and its sustainability for securing future of next generations so as to enjoy a decent, prosperous life.
For his part, the UN chief said he was impressed with what he had seen at Masdar City and UAE's initiatives on renewable and clean energy.
By launching these pioneering projects, he said, the UAE is providing a living example and delivering a valuable message to others at the region and beyond.
He added that Abu Dhabi has become an important platform for international cooperation in renewable energy through its advanced research being undertaken and implemented at Masdar City.
The UAE, he said, should be proud of these achievements.
Follow Emirates 24|7 on Google News.