Mohammed bin Zayed visits Qasr Al Hosn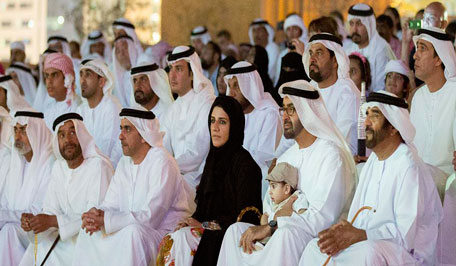 General Sheikh Mohammed bin Zayed Al Nahyan, Crown Prince of Abu Dhabi and Deputy Supreme Commander of the UAE Armed Forces visited the venue of the Qasr Al Hosn Festival which celebrates more than 250 years the fort's history.

The event started on February 28 and will run to March 9.

In the main courtyard of the Qasr Al Hosn fort, Sheikh Mohammed and sheikhs performed the traditional Al Ayyala dance, while national folk-dancing troupes in national costumes were singing the glories of the Al Nahyans and forefathers and their achievements for the future of the nation.

Later, Sheikh Mohammed toured the traditional souqs and handicraft fairs which highlight all aspects of life in the past, including in the desert, urban communities, agricultural and seafaring communities, which all reflect the glories of the country's unique ancient past and generous giving of the forefathers who wanted to provide the best decent living.

There, he viewed traditional handicrafts and activities such as shipbuilding, sailboat-building, rope-making, hunting tools, falconry, huntingwith salukis and camel riding.

Sheikh Mohammed bin Zayed and his companions acquainted himself with handicrafts made by Emirati women, including jewelry and accessories, traditional costumes, henna, traditional foods and household items made from palm fronds and animal products, fabrics and mats.

He also watched some traditional performances which reflect the UAE's traditions and arts featured at celebrating national occasions.

He interacted with the exhibitors and viewed the artefacts they showcase. He expressed pleasure at their participation which reflect their pride in their national identity and loyalty to the nation.

He said: "Today we smell the aroma of history to set an example for the coming generations to let them know that the dreams of our leaders and forefathers have been realized and embodied in the present which we live in.
"They suffered and gave everything and did everything for us so that we have what we have today. What we do today will bear witness to what we did and what we will do for the future of this generous country."

Sheikh Mohammed bin Zayed was accompanied by Sheikh Saif bin Mohammed Al Nahyan, Sheikh Surour bin Mohammed Al Nahyan, Lt General Sheikh Saif bin Zayed Al Nahyan, Deputy Prime Minister and Minister of Interior, Sheikh Hamed bin Zayed Al Nahyan, Chief of Abu Dhabi Crown Prince's Diwan, Sheikh Mohammed bin Khalifa Al Nahyan, Executive Council Member, Sheikh Nahyan bin Mubarak Al Nahyan, Minister of Higher Education and Scientific Research, Sheikh Sultan bin Tahnoon Al Nahyan, chairman of Abu Dhabi Tourism '&' Culture Authority (TCA Abu Dhabi) and senior officials.
Follow Emirates 24|7 on Google News.