Mohammed launches Dh50bn Dubai Clean Energy Strategy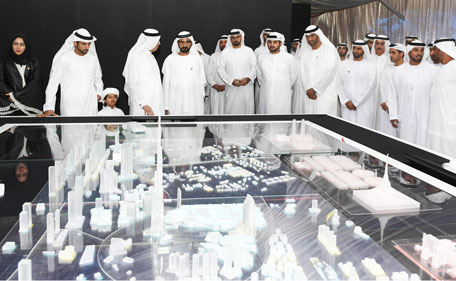 His Highness Sheikh Mohammed bin Rashid Al Maktoum, Vice-President and Prime Minister of the UAE and Ruler of Dubai, has launched the Dubai Clean Energy Strategy 2050, which aims to make Dubai a global centre of clean energy and green economy.

His Highness said that the UAE, through its diverse strategies and investments in clean and renewable energy, is now leading global efforts in this area despite having the second-largest oil reserves in the world.

"The strategy that we are launching today will shape the energy sector in Dubai over the next three decades.
"It aims to provide 75 per cent of the emirate's energy through clean energy sources by 2050, reflecting our commitment to establish a sustainable model in energy conservation which can be exported to the whole world, and support economic growth without damaging the environment and natural resources.

"Our goal is to become the city with the least carbon footprint in the world by 2050," Sheikh Mohammed said.

"Every investment in the development of clean energy sources is at the same time an investment to protect the environment for future generations, he added.

"It is an effort to build our sustainable economic sectors which do not depend on non-renewable energy resources and are unaffected by volatile energy prices.
"Through this strategy, which is based on innovation, research and development, we aim to explore the future of the energy sector to unveil initiatives that will make use of the scientific and technological developments in this sector and take the lead in their development and application."

His Highness asserted that the UAE is keen to become a global reference platform in sustainability practices by transforming concepts into real applications.
Sheikh Mohammed called on international companies and R&D centres to make Dubai a base for testing and applying the next generation of clean energy technologies to create a global model that can benefit the world.

His Highness stated this during the inauguration of the second phase of the Mohammed Bin Rashid Al Maktoum Solar Park at Al Marmum area in Dubai.

The solar park is considered as the largest of its kind in the world, which will produce 5,000 megawatts in a single location by 2030, and involves total investments worth Dh50 billion.

His Highness also inaugurated the construction works of Dewa Innovation Centre, which includes under its umbrella a group of research and development laboratories in the field of clean energy with a total investment of Dh500 million.

During the inauguration, Sheikh Mohammed was accompanied by Sheikh Hamdan bin Mohammed bin Rashid Al Maktoum, Crown Prince of Dubai, Sheikh Maktoum bin Mohammed bin Rashid Al Maktoum, Deputy Ruler of Dubai and Chairman of the Dubai Technology and Media Free Zone Authority, Sheikh Ahmed bin Saeed Al Maktoum, Chairman of Dubai Civil Aviation Authority and Chairman of Emirates Group, Mohammed bin Abdullah Al Gergawi, Minister for Cabinet Affairs, Dr. Sultan bin Ahmed Sultan Al Jaber, Minister of State, Saeed Mohammed Al Tayer, Managing Director and CEO of Dubai Electricity and Water Authority (DEWA), Khalifa Saeed Sulaiman, Director-General of the Dubai Protocol Department, and acrowd of social and econimoc personalities and senior officials.

Ambitious goals, clear pillars

Dubai Clean Energy Strategy aims to provide 7 per cent of Dubai's energy from clean energy sources by 2020.
It will increase this target to 25 per cent by 2030 and 75 per cent by 2050.

The strategy consists of five main pillars: Infrastructure, legislation, funding, building capacities and skills, environment friendly energy mix.

Infrastructure

The infrastructure pillar includes initiatives such as Mohammed Bin Rashid Al Maktoum Solar Park, which is the largest generator of solar energy in the world from a single location with a capacity to produce 5,000 MW by 2030, and total investment of Dh50 billion.

The first phase of this project began operations in 2013. The second phase will begin operations in April 2017 with a capacity of 800 MW, the third phase will begin operations in 2020 with a capacity of 1000 MW, while the fourth phase will begin operations in 2030 with a capacity of 5000 MW, which is 25 per cent of the total energy production in the emirate of Dubai as estimated.
The infrastructure pillar also includes a comprehensive innovation centre which will be built using 3D printing technology.

The innovation centre features a group of research and development centres specialised in the next-generation of clean energy technologies such as solar energy technology test centre, drones research centre, 3D printing technology, and solar energy based desalination tests centre.

Dh500 million will be invested in research and development in areas such as integration of smart grids, energy efficiency and electricity generation from solar energy.

The infrastructure pillar also includes the establishment of a new free zone under the name Dubai Green Zone dedicated to attracting research and development centres and emerging companies in the field of clean energy.

Legislation

The second pillar focuses on the establishment of a legislative structure supporting clean energy policies in two phases.

The first phase will be implemented through Shams Dubai initiative, which aims to encourage building owners to place solar panels on the roofs and link them to the main network of Dubai Electricity and Water Authority.


The second phase includes coordination with Dubai Municipality to issue a set of decisions on the integration of consumption rationalisation technology and energy production and the requirement to install solar panels on the roofs of all building in Dubai by 2030.

Dubai Green Fund

The third pillar is related to financing solutions for investment in research and development on clean energy and its application.
This pillar includes the establishment of Dubai Green Fund worth of Dh100 billion which will contribute through its financial resources easy loans for investors in the clean energy sector in the emirate at reduced interest rates. Dubai Electricity and Water Authority will ensure the demand management and economic value of the project.

Building capacities and skills

The fourth pillar aims to build human resources capabilities through global training programmes in the field of clean energy in cooperation with international organisations and institutes such as International Renewable Energy Agency (Irena) as well as international companies and R&D centres.
The pillar will contribute to the creation of a sustainable model for research and development in the area of clean energy based on specialised human capabilities in this field.

Environment friendly energy mix

The fifth pillar is focused on creating an environment friendly energy mix comprising solar energy 25 per cent, nuclear power 7 per cent, clean coal 7 per cent, gas 61 per cent by 2030.

The mix will gradually increase the employment of clean energy sources to 75 per cent by 2050, making Dubai the city with the least carbon footprint city in the world.
This pillar also activates energy generation mechanisms through waste by employing state-of-the-art technologies in this area that will contribute to turn 80 per cent of the emirate waste to energy by 2030.

Follow Emirates 24|7 on Google News.