Mohammed's daughters, Salama and Shamma, lead Pink Caravan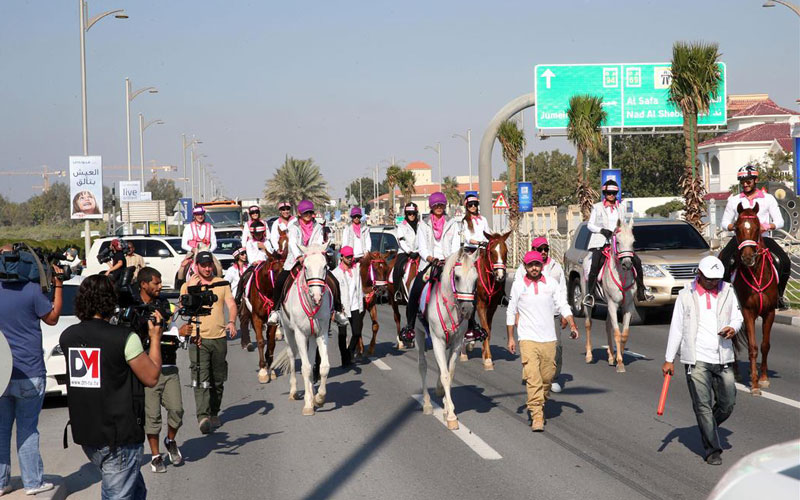 Daughters of His Highness Sheikh Mohammad bin Rashid Al Maktoum, Vice-President and Prime Minister of the UAE and Ruler of Dubai, Sheikha Salama and Sheikha Shamma, led Pink Caravan riders - on the 8th day of the 3rd annual pan-UAE horseback journey for breast cancer awareness.

As the new ambassadors for the Caravan, Sheikha Salama and Sheikha Shamma have joined the 'Pink' riders this year, on their two-day trek across the Emirate of Dubai.

Every year, the Pink Caravan riders organise an awareness trek across the country to dispel myths surrounding breast cancer and promote the importance of early detection. The Pink Caravan campaign offers free clinical examinations and screenings to both Emirati citizens and expatriate residents through its medical teams and mobile clinics.

Arriving in Dubai yesterday, the riders started their journey from the Union House in Jumeirah and made a stop at Burj Al Arab where Sheikha Salama and Sheikha Shamma joined the Pink riders for the first time as the royal ambassadors for the noble cause.

The riders trekked across the busy streets of Dubai, before making a short stop at Burj Khalifa, where they were welcomed by Gerard Seeber, the Australian Consul General in Dubai, and Sheikh Mohammad bin Abdullah Al Thani, Director-General of the Sharjah Statistics Centre, and an ambassador of the Pink Caravan himself.

Sheikha Salama praised the brilliant idea behind Pink Caravan, its objectives and the milestones that have been achieved so far in terms of increased public awareness and the importance of early detection for the treatment of breast cancer.

She urged community members in Dubai and elsewhere in the UAE to support the initiative in every way possible and contribute to raising awareness about the campaign.

Sheikha Shamma said, "I am extremely happy to participate and support the Pink Caravan as an ambassador. It is a truly remarkable experience to be a part of this humanitarian initiative which has achieved tangible results in a span of merely three years. I hope that such efforts would continue to enhance health awareness in the country."

Speaking on the occasion, Ameera BinKaram, President of the Board of Trustees and Founding Member of Friends of Cancer Patients (FOCP) charity organisation, said, "The immense support from the UAE's senior leadership, royalty and senior officials as well as the local administration has significantly contributed to the excellent results achieved by the campaign across the country.
"The Pink Caravan was founded with an aim to promote public awareness about breast cancer and emphasise on early detection, raising funds for state-of-the-art medical equipment, and to offer free medical examinations to all Emiratis and expatriates living in the UAE. By the grace of God, we are now closer to achieving our goals for which the Pink Caravan was launched in 2011."

Mobile clinics set up at Ousha Bint Hussain Cultural Centre in Dubai and Al Hamriya Club in Sharjah have seen a huge turnout of people of various age brackets for the free clinical examinations and breast cancer screenings.

According to statistics, a total of 514 people were screened on the seventh day of the ride, out of which 349 were women and 165 men. Out of these, a total number of 61 people were Emirati citizens and 353 expatriates.

The medical team referred 103 people for mammogram screenings and eight for ultrasound examination. Out of the total, 183 people were above the age of 40.

The Pink Caravan has provided free screenings to more than 17,000 people, including women men, UAE nationals and expatriates , since it was launched three years ago by His Highness Dr. Sheikh Sultan Bin Mohammed Al Qasimi, Member of the Supreme Council and Ruler of Sharjah, and his wife Sheikha Jawaher bint Mohammad Al Qasimi.

The Pink Caravan will continue its journey in Dubai on Sunday before heading towards Al Ain (Monday-11 Februrary), where mobile clinics would be set up at Al Ain Municipality and Al Towaya Park. The ten-day horse-back ride will be culminated in Abu Dhabi on Tuesday-12 February where clinics will be set up at Barjeel Hospital.
ALSO READ:

Win 5 of the latest phone from BlackBerry



Canada consultants not licensed to offer jobs to immigrants: Canadian Embassy



Sharjah rents soar up to 20%; next stop Ajman, UAQ?
Follow Emirates 24|7 on Google News.