Mohammed tours Family Gathering Village in Dubai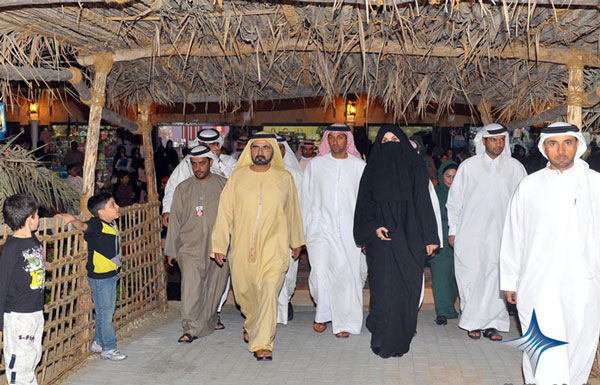 His Highness Sheikh Mohammed bin Rashid Al Maktoum, Vice-President and Prime Minister of the UAE and Ruler of Dubai inspected the headquarters of the 4th Family Gathering Village in Al Khawaneej 1, Dubai.
The event is organised by the Princess Haya Bint Al Hussein Islamic Cultural Centers and will run till April 7th.
On arrival, Sheikh Mohammed was received by Mona Belhasa, Assistant Director General for Corporate Support at the Department of Islamic Affairs and Charity Work and Chairperson of the Supreme Organising Committee of the Gathering, Ahmed Al Mansouri, Director of the Gathering's Operations and Issa Al Maidour, the Technical advisor to the Family Gathering Village.
Sheikh Mohammed toured the various sections of the village, including the village's souk, museum, restaurants' corner and other entertainment venues.
The Director of the Princess Haya Bint Al Hussein Islamic Cultural Centers, Mona Balhasa, briefed Sheikh Mohammed on the village theatre's programmes.
She expressed her and the centre's officials' pride and appreciation for Sheikh Mohammed's visit and his directives, which she regarded as an incentive to all participants in the event.
She stressed that the gathering, to which Princess Haya bint Al Hussein gives much care and attention, has contributed to creating a promising tourism in this part of Dubai.
She went on to say that the gathering's achievement and success were the fruit of various government bodies' efforts, sponsors and individuals whom without their support such a gathering would not have achieved its objectives in that short span of time.
The Family Gathering Village, a family oriented project which includes theaters, poetry cafe, houses of crafts and other forms of entertainment and culture, aims at bringing together family members at cultural, social and heritage - related activities, instilling social values and inherited customs in addition to opening new horizons for productive families to develop and innovate.
Follow Emirates 24|7 on Google News.