Mohammed visits two 'ideal UAE mothers'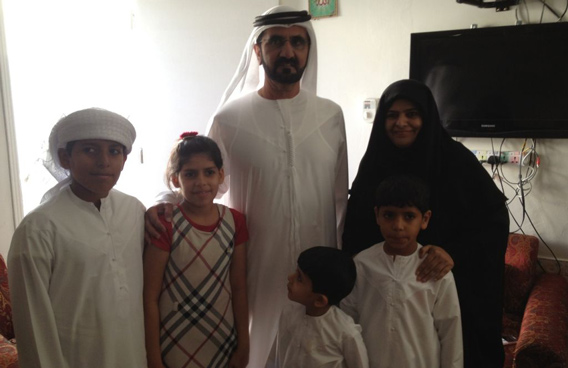 Following his call to pay profound tribute to every mother in the UAE on the occasion of his sixth accession anniversary, His Highness Sheikh Mohammed bin Rashid Al Maktoum, Vice-President and Prime Minister of the UAE and Ruler of Dubai, visited the house of two distinguished Emirati mothers on Monday.
Sheikh Mohammed paid a visit to Hessa Al Jaber, who lives in the Al Khan area of Sharjah. "Just visited Hessa Al Jaber, an Emirati working mother in Sharjah who raised four children despite her hearing loss," Sheikh Mohammed tweeted through his Twitter handle @HHShkMohd.
"Hessa is a true example of the Emirati mother who represents the values of determination and strength #ThankUMother," he added.
Sheikh Mohammed inspected the conditions of the household and inquired about their status, and then instructed that Hessa be provided with a fully-furnished house at Al Warqa'a area, which will be delivered within three days.
"I've visited Ousha bint Khalifa Al Suwaidi, 'The Girl of Arabs', an Arab mother who combines both the power of faith and word. Ousha is an example of an exceptional mother, who influenced not only her children, but also all Emiratis with her wisdom," Shaikh Mohammad also tweeted on Monday.
Ousha Al Suwaidi is a Nabati (popular poetry) poet dubbed 'The Girl of Arabs' by Shaikh Mohammad when he presented her one of his poetry books.
Last year, Sheikh Mohammed celebrated his fifth accession with orphans, stressing that "each year, a deserving group in our society shall be recognised."
This year, he directed that every mother in the UAE is to be honoured for their role in bringing up generations and grooming leaders.
Follow Emirates 24|7 on Google News.