Mona Al Marri addresses global media at UN Foundation meeting in Dubai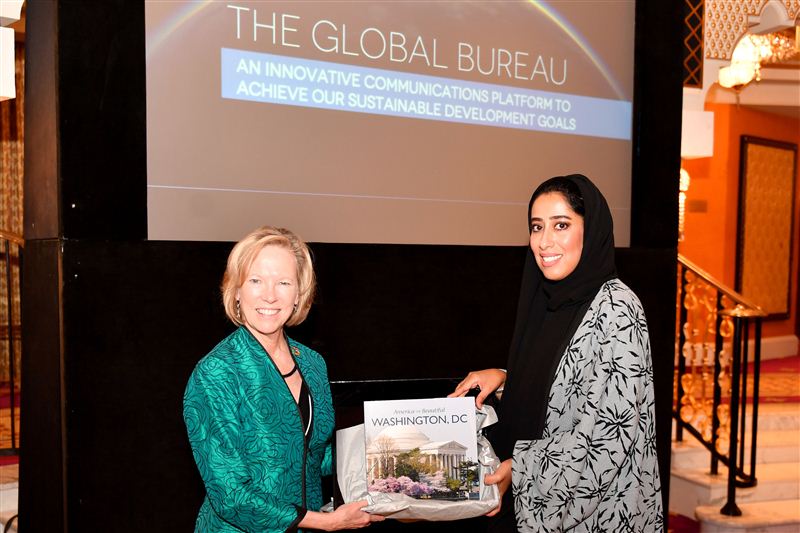 Director General of the Government of Dubai Media Office (GDMO) Her Excellency Mona Ghanem Al Marri addressed a group of media organisations from across the world who gathered together in Dubai for a meeting hosted by the United Nations Foundation.
The meeting was held to discuss the Global Bureau project, a programme to support media companies and journalists in their efforts to cover sustainable development more extensively and deeply.
Her Excellency Mona Al Marri spoke with meeting participants about the rapidly expanding media landscape in Dubai, and the importance of media in Dubai's overall growth, with a particular emphasis on the last 10 years.
The meeting, held on the margins of the World Government Summit currently taking place in Dubai, featured a discussion on the role of media in driving conversations around global development, as well as how the changing media landscape affects media markets. The diversity of participants, who represented both national-level and international print, radio, television, and digital media outlets from around the world, facilitated a robust discussion.
Mona Al Marri said: "Dubai is increasingly becoming a pivotal city in the global media industry both by virtue of being a platform for reaching the world's fastest growing media markets as well as providing a highly supportive environment for media innovation and entrepreneurship to flourish. From a very early stage, Dubai's leadership recognised that a dynamic media sector was key to the development of a knowledge-based economy. Dubai is committed to supporting media in developing new capabilities and tapping new opportunities in today's rapidly changing digital landscape. Dubai provides the ideal setting for global media to share ideas and experiences as well as engage in a dialogue on critical issues that will shape the future of the media industry."
The UN Foundation is working in partnership with the World Government Summit for the second year running. The Foundation brings together a diverse set of partners - including journalists, corporate executives, youth leaders, and digital influencers - for the unique opportunity to participate in the Summit.
The discussions about media included issues the importance of data in reporting, media's role in engaging citizens in public discourse that helps shape policy, and the interplay between global trends and local/regional reporting.
Her Excellency Mona Al Marri welcomed the participants at the meeting to Dubai, and shared her experiences of leading the Government of Dubai Media Office. Her remarks helped contextualize the day's rich conversations by providing a local perspective that is deeply connected to the global economy and global thought leadership on development.
Follow Emirates 24|7 on Google News.